Hi everyone,
Just two weeks after Hurricane Eta caused destruction and death across Central America, Iota touched down just 15 miles from the same spot as one of the strongest hurricanes this late in the year in record history.
Nicaragua's carbon emissions are just 0.02% of the world total. That they are bearing the brunt of the climate crisis right now is cruel climate injustice. You can donate here.
The climate crisis isn't waiting, we need bold local, national, and global action now.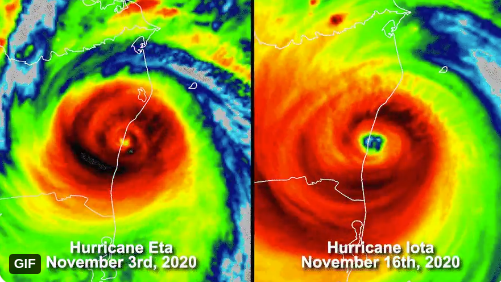 Here's your 350PDX weekly update.
How is the election going?
The democratic process is churning along towards confirming President-elect Biden. Trump continues norm-busting, but has not acted outside of his authority as President which would be required to pull off a coup.
After sustaining numerous losses (23, if you're keeping count), Trump's legal options have narrowed considerably. He is churning a narrative that undermines the belief in the election, but does not seem capable of changing the outcome. Staff are fleeing his campaign. By encouraging Biden to receive security briefings, Republicans found a strategy to encourage a transfer of power that avoids direct confrontation with the administration. And more Republican and world leaders are coming out in support of President-elect Biden.
For about four hours yesterday evening, one small part of the US election system bent to Trump's narrative for the first time. In Wayne County, the county of Detroit, Michigan, the four-person Board of Canvassers met to certify the election results. In an unprecedented move the two Republicans on the board refused to vote to certify the results, meaning that millions of votes (mostly from Black voters) would have temporarily not been certified.
The good news is that there were signs that this was going to happen, and hundreds of people were ready to mobilize, and did so during the public comment period which lasted for hours, as well as putting in thousands of phonecalls to state representatives and county commissioners, and holding a car caravan. This pressure along with intense scrutiny from the media and politicians meant that four hours later the Republicans reversed course and the board unanimously certified the results. 
It's unclear whether this case was a fluke, or a first crack in the wall of our election process. We'll keep monitoring and keeping you informed, but two things are clear:
The fact that this was the first minor success of Trump campaign's efforts to overturn their election loss shows that their campaign is going poorly
A vigilant citizenry ready to respond is a powerful force against these efforts
The damage being done to trust in our elections and social cohesion is dangerous and will have long lasting implications, but at this time, Trump has no momentum and no viable path to override the will of the voters and retain power after January 20th.
We continue to encourage folks to breathe, give gratitude to election workers, and prepare for pressuring a Biden presidency.
Actions
All these actions and more can be found on our website's Take Action page – 350pdx.org/action
Due to the current COVID spike this week of action has been postponed and tentatively rescheduled to Dec 5-11. Youth Strike for Our Lives (YSOL) is a BIPOC-led youth coalition based in Portland that 350PDX helps to coordinate. The week of action will be in support of Black liberation, abolition, Indigenous sovereignty, environmental justice, gender equity, and educational equity for a livable future. Follow @yslives on Instagram and Twitter for updates.

Yesterday afternoon, Minnesota Governor Tim Walz and his Pollution Control Agency APPROVED the last big state-level permits for Line 3, a proposed tar sands pipeline in Minnesota. Enbridge is likely to begin construction within the month, despite the risk out-of-state workers pose during the COVID-19 pandemic and the multiple pending lawsuits against the project.

Call Minnesota Attorney General Keith Ellison – 651-296-3353. Here's a sample script:

"Hi, I'm [NAME], I'm calling from [PLACE], and I'm calling because I am extremely concerned about the possibility of construction on the Line 3 pipeline. The pipeline is still facing enormous legal challenges, including the one in which your office represents the Minnesota Department of Commerce. I'm calling to urge you to work with the DOC to advocate for a stay against construction. Your environmental justice track record is strong, and I'm counting on you to stand with the people and stand up to Enbridge. Please do everything you can to stop construction on Line 3. Thank you"
Updates​​​​
Opportunities​​​​
Webinar: Climate + State Violence: Immigration

Thurs Nov 19 – 4:00PM – Online

From Power Shift Network: "We are witnessing modern day low-intensity war zones in areas like the U.S.-Mexico border. The U.S. treats migrants and immigrants as enemies by blurring the line between security, policing, and war-making. The U.S.' emissions of greenhouse gases forces many to migrate from home to more stable environments. With the climate crisis worsening, the more militarized borders and climate related protests become.

Our next discussion for our fall webinar series will dive into the U.S. immigration system and its impact on our movement for climate justice and collective liberation. Power Shift Network's Nathalie Peña will be joined by Public Health Researcher, activist, and law student Giuliani Alvarenga, Florida Immigration Coalition's Nahomi Matos Rondón, and youth activist, Dante Gonzales."

Grassroots Year End Fundraising

Sat Nov 21, 11:00AM – 1:00PM – Online

Want to get skilled up on some deeper activism / movement / nonprofit skills? Excited to learn how to build people power by organizing money in support of a just future? Come to this training, which is part of 350.org's Get Ready for the Revolution Training Series.
Thank you all for the work that you do, stay safe, we're all in this together,
Ashley, Chris, Chuck, Dineen, Indi, Lucy – the 350PDX staff