Hi everyone,
So that was the 50th anniversary of Earth Day. Not quite what we were expecting, but with pouring rain on Wednesday maybe we were lucky to not be doing a massive outdoor festival in East Portland like we initially planned.
You can watch our PDX rally here, edited to remove breaks to make it more watchable. We had thousands of people watch live and afterwards, and the highlights for me were definitely the two poems by Mia Sedory (starts at 0:04:00) and Lana Perice (starts at 1:14:00), two local high schoolers.
Then on Thursday we had the Digital Chase Takeover, where people across the country posted thousands of educational reviews of Chase Bank branches on Yelp, Yellow Pages, and other websites to highlight their dominant role in funding climate destruction. It's not too late to write your own, check out the brilliant action toolkit here.
Nationally the Earth Day Live 72 hour livestream reached over 4 million people!
Thank you so much to everyone involved, especially Jenifer and Sue from our Defund/Divest team; Dineen, Dallas, Chuck, Ashley, Lucy from our staff; and Ale (OPAL); Simeon (APANO, Pacific Climate Warriors); Joseph (Anakbayan); Edin, Lara, and Allyson (all Sunrise PDX); and everyone else on the Earth Day steering committee.
In the coming weeks and months we will be unrelenting in our fight for YouthPass, the Oregon Green New Deal, and for Chase to defund the fossil fuel industry, as well as all our other ongoing campaigns. Thank you for being with us.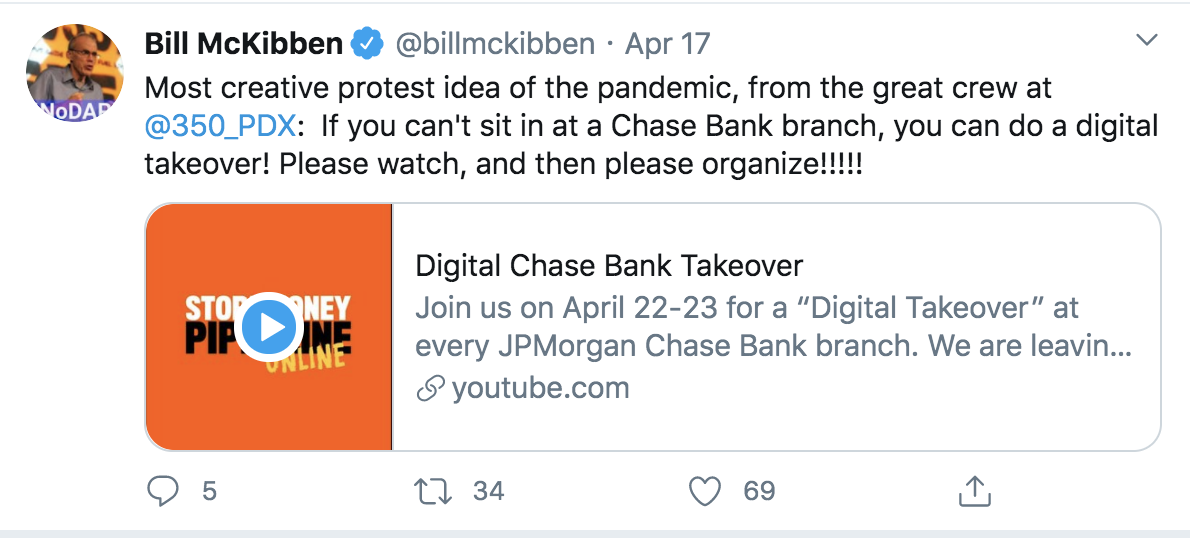 ———————-
In these financially unstable times, organizations like 350PDX are vulnerable. We hope you are looking after yourselves and your community first, but if you're able to, please consider becoming a sustaining donor to help us get through this crisis and make sure pandemic solutions are climate solutions, and the society we rebuild is one based on community, solidarity, and clean energy. Donate monthly here. Anything helps, truly! 
Until May 5th, the first month of donations for new sustainers will go towards the Oregon Worker Relief Fund.

The Oregon Worker Relief Fund gets dollars in the hands of Immigrant Oregon workers who are being left out of the Federal Stimulus package. 100% of the donations will go directly to community members in need who cannot access unemployment insurance benefits. Learn more about the fund here.
Help us get through this and become a monthly sustainer today!
Check out the 350PDX Actions page for all the actions you can take right now. It's different every week and there are 6 actions on there right now!
Here's your 350PDX weekly update.
COVID-19 Resources
Actions
All these actions and more are listed on the new 350PDX Actions page!
News
Opportunities​​​​
Thank you all for the work that you do, stay safe, and we're all in this together,
Ashley, Chris, Chuck, Dineen, Lucy – the 350PDX staff