Help us raise $100,000 by Dec. 31st! Your gift to 350PDX helps fund the change we need to create in Portland, making our city and our world a safer and more livable place for everyone. Thank you so much for your support in our unrelenting fight for climate justice. Together we will end this climate crisis! Donate here.
—————————-
Hi everyone,
Last week we sent an action alert to support the Red House on Mississippi. We wanted to share a bit more about why we made the decision to support the effort to stop the foreclosure of this fourth-generation home of an Afro-Indigenous family. Read more about the story of the Red House on their website here.
350PDX is a climate justice organization. That means we view the climate crisis as a crisis of social justice, not just of increasing carbon emissions. We see that many of the racial, economic, and environmental injustices of our world have the same root causes, and so the movements to fix these injustices must also intersect, work together, and show up in solidarity for each other.
When we put our support behind the Kinney family's historic ownership of the Red House on Mississippi, one of the last Black-owned homes in the neighborhood, we are following the lead of local Black Lives Matter organizers and organizations like Don't Shoot PDX and Community Alliance of Tenants, centering frontline leadership which is core to our values as a movement. And through this support we also demanding an end to the wider issue of housing injustice and gentrification, and beyond that the extractive and racist capitalism that is behind so many of our society's inequities.
And as proof that direct action, public pressure, and solidarity works, on Monday, the family purportedly reached a deal with the City of Portland. In exchange for the city not enforcing the foreclosure eviction, Red House supporters have begun taking down the barricades blocking the streets surrounding the house. The city has promised to help negotiate steps forward to help the multi-generational North Portland family stay housed.
The fight is not over yet, so read more and take action here.
Here's your 350PDX weekly update.
Actions
All these actions and more can be found on our website's Take Action page – 350pdx.org/action
As the climate crisis escalates, Indigenous women have been demanding that financial institutions respect Indigenous Rights and end financing for Tar Sands, one of the most carbon-intensive fossil fuels on Earth. On October 19, over 40 Indigenous women leaders sent a letter to 70 major banks, insurers, and asset managers, calling for policies respecting Indigenous Rights, accelerating a just transition toward renewable, regenerative energy and ending all support for dirty tar sands oil. Read the letter here.

JPMorgan Chase, the world's largest financer of the fossil fuel industry, still hasn't responded to this important letter, or the request for a meeting with these Indigenous women leaders. This is a disgrace.

Join us in calling and writing to Daniel Pinto, the Chief Operating Officer and Co-President of JPMorgan, to demand that Chase read and respond to this letter, including the request for a meeting, and stop financing tar sands oil.

Joe Biden and the Governor of Minnesota have explicitly expressed their commitment to taking action to stop the climate crisis.

The ONLY decision consistent with acting on climate and respecting Native treaty rights is to STOP Line 3.

Tell the new administration that the only way to show climate leadership is to oppose Line 3.
Updates​​​​
The 350PDX Arts Team has been running a hugely successful end of year art sale where all proceeds go to 350PDX. The sale closes this Friday Dec 18 so we can make sure to get art to folks before Dec 25, and also so our Arts Team volunteers can enjoy the holiday break. We're doing free personal delivery in the Portland Metro area, and also offering shipping for folks outside that area.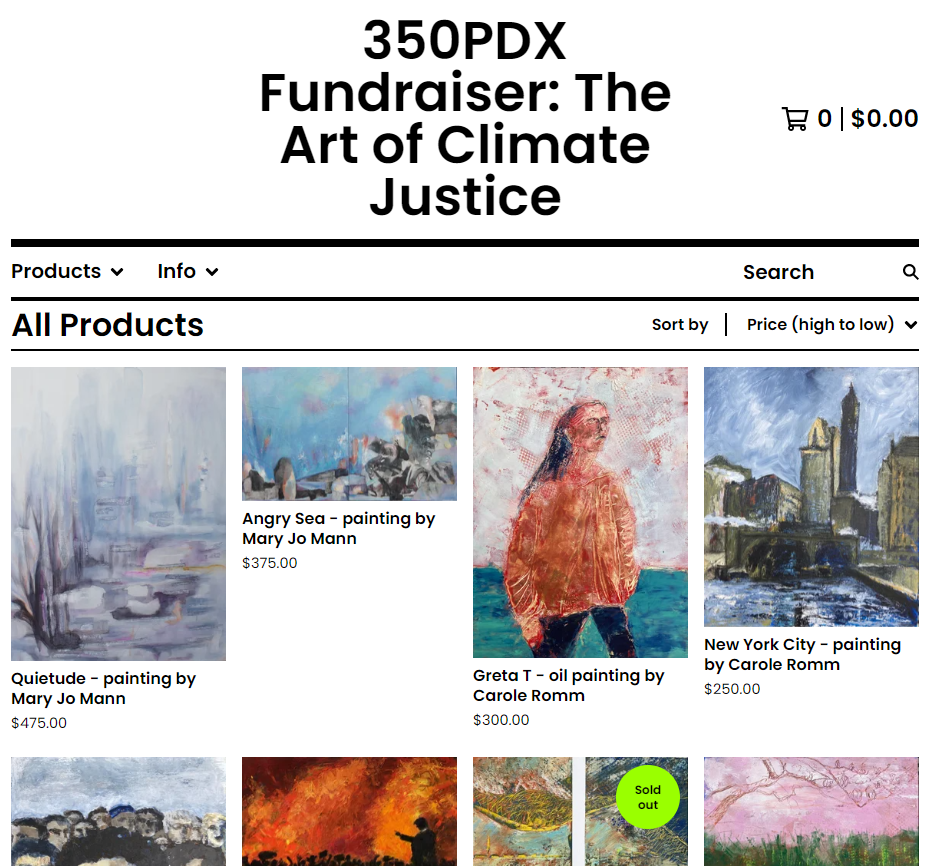 We're recruiting for an intern to help us develop our social media channels from January – March 2020. This will be a paid position ($15/hr for 100 hours over 3 months). Is this you? Know anyone who might be interested? See more details and apply here. Deadline Thursday Dec 17.

Watch: Stop Line 3 National Day of Action

On Friday, December 12, activists across the country including here in Portland took action demanding an end to financing for toxic tar sands pipelines like Line 3. Watch the video below featuring our own Campaign Manager Dineen, and the Portland climate justice fire truck. Portland-area folks hand-delivered nearly 20 letters to Chase branch managers across the metro region!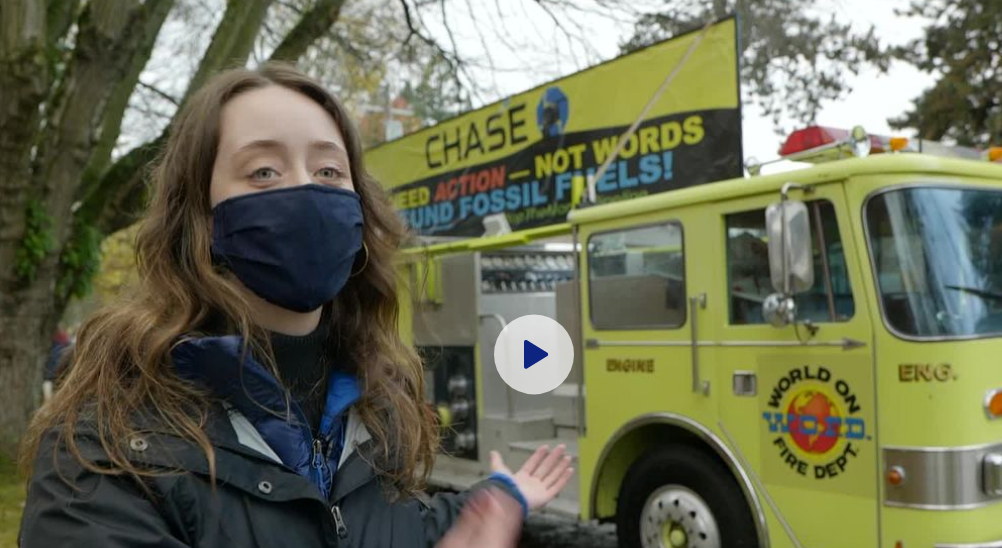 Oregon Just Transition Alliance is hiring an Advocacy Director! Apply by January 11, 2021. Learn more and apply here:

New York State's $226 billion pension fund moves to divest from riskiest oil and gas companies

In a big win for the divestment movement, New York State Comptroller Tom DiNapoli announced that the $226 billion New York State Common Retirement Fund (Fund) is moving to divest from the riskiest oil and gas companies by 2025 and decarbonize by 2040.

New York's announcement is the biggest leap forward worldwide on climate finance action in 2020, an otherwise bleak year for the planet. It creates the most comprehensive program of any large public fund worldwide to divest from fossil fuels, decarbonize across a massive portfolio, and put major financial pressure on public companies — from auto companies to utilities — to align their operations with the scale of climate action needed to stave off worldwide catastrophe.

The victory comes eight years after New Yorkers launched the #DivestNY campaign, showing that persistence and grit can wear down even the biggest institutions!

Watch: Immigration + Climate Justice Webinar

Watch this great webinar from Power Shift Network: "We are witnessing modern day low-intensity war zones in areas like the U.S.-Mexico border. The U.S. treats migrants and immigrants as enemies by blurring lines between security, policing, and war. The U.S. and Global North's emissions of greenhouse gases force many to leave their home to find more stable environments where they can expect to find food, water, and relative safety compared to the home they're fleeing. As the climate crisis worsens, the more militarized borders and climate related protests become. Our 2nd discussion for our fall webinar series dove into the U.S. immigration system and its impact on our movement for climate justice and collective liberation."

Climate racism is real. Researchers found it in U.S. cities

Lower-income residents and people of color are more likely to live in the hottest neighborhoods in cities across the country, putting them at greater risk of heat-related illnesses and death.
Opportunities​​​​
Portland's Racist Displacement History: Know the past, create new future

Sun Dec 20, 1:00PM – 3:00PM, Online

Presented by People for Mutual Education (P4ME), this event is the second in a three-part series that aims to convene Portland community members around a common goal of resisting municipally-sanctioned gentrification. In this virtual teach-in, participants will engage with Oregon history to pinpoint technologies that have been and are continuing to be used to uphold anti-Black racism in our local communities. Through mutual education and artistic expression (yes we can do collective art virtually!), we will set the stage for the third teach-in in this series, which will turn understanding and connection into action against gentrification.

Tickets are sliding scale $0-$25.

Youth Power PDX: Speak Up, Sing Out!

Sat Dec 19 – Thurs Dec 24, Online

Youth Power PDX is a youth-run collective, centering BIPOC and queer (LGBTQ+) stories and voices through the crossroads of story, music, visual art and activism. Friends of Noise and City Repair are providing mentorship, resources and support to the youth planning committee.

Between Saturday, Dec. 19th and and Thursday Dec. 24th you can catch panel conversations and music live streamed every afternoon (3 pm – 4:20 PST) and evening (9 pm – 10:20 PST). 350PDX is helping sponsor the Youth Power week.

WVDO: Executive Leadership Academy

Deadline to apply Dec 23

The Executive Leadership Academy, offered in partnership with Portland State University, is an 11-month program combining coaching, theory, and mentorship to nonprofit professionals looking to level up their leadership skills.

Portland Black Lives Matter Protests
Every day @ across the city – details here
Click here for our advice for showing up to protest
Thank you all for the work that you do, stay safe, we're all in this together,
Ashley, Chris, Chuck, Dineen, Indi, Lucy – the 350PDX staff