Hi everyone,
In California so far this year, more than 7,000 fires have chewed through 1.4 million acres, making this fire season one of the most active ever. For context, by this point in 2019, 4,292 fires had burned 56,000 acres across the state.
Climate change is already here, and while we are fighting hard to limit the worst consequences of a runaway climate crisis, some climate impacts are unavoidable at this point. So how do we create a world that can better deal with climate change? One important way is to make this world more just and equitable for all.
Climate change impacts some people a lot more than others. In California migrant farm workers and prison firefighters are on the frontlines of toxic smoke and dangerous heat. They have no choice but to brave the dangers, with little or no protection, from COVID and the smoke.
So when we talk about climate justice, it means not only reducing carbon emissions, but also reducing the inequality that makes people suffer disproportionately more than others. That's why we show up for Black Lives Matter, and for indigenous sovereignty, and for migrant justice.
With the election coming up (see more on that below), followed by a once-in-a-lifetime opportunity to rebuild our economy after this pandemic to something livable, just, and low-carbon, we have a crucial and busy few months and years ahead. This coming at a time when fundraising is more difficult than ever. Will you contribute to our summer appeal so that we can continue the fight for climate justice?
An amazingly generous donor has pledged to match every donation up to $10,000 for our summer appeal! So your contribution will be doubled if you donate today!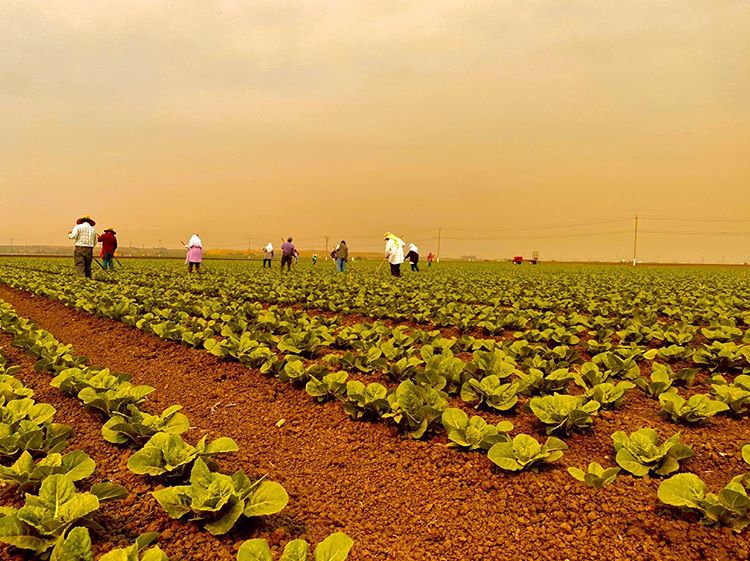 Pic from United Farm Workers
Here's your 350PDX weekly update.
Actions
We're building a team to ensure that as many people as possible are registered to vote – and then turn them out to the polls on Election Day on November 3rd.

We'll be partnering with other 350 local groups in key swing states, and together we'll reach as many voters as we can, calling and texting them with important information on voter registration and vote by mail – then reminding them to cast their ballots when it counts. But it will only work with volunteers like you.

After you sign up, we'll send you a weekly email with phonebanking events happening with our 350 partners every day of the week – so you can engage when it works best for you. Sound good? Sign up here!

On Sunday Jacob Blake, a 29-year-old Black man, was shot in the back seven times by a Kenosha, WI police officer. His 3 children watched it happen. His shooting is just the latest example of ultra-militarized police forces showing an utter disregard for Black life.

Police foundations are private, corporate-sponsored groups that supplement already bloated police budgets. From NYC to LA and everywhere in between, police foundations help cops acquire surveillance tech, SWAT team equipment, and weapons that are used to terrorize Black, Brown, and Indigenous people. Click here to read more, and to take a few more actions beyond signing the petition.

A fun and generous idea. Like the free book libraries around town, but a fridge / pantry for those in your neighborhood who lack food access. See more info, a map of fridges, and ways to donate/volunteer here.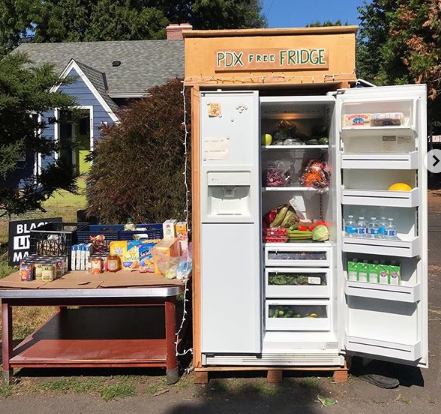 Updates
Opportunities​​​​
Portland Black Lives Matter Protests
Every day @ across the city – details here
Click here for our advice for showing up to protest

There are events all day every day, in a whole range of different neighborhoods and at a whole range of different levels of risks – from standing on street corners waving signs in the middle of the day, to COVID-safe car caravans slowly parading around the city, to facing off with federal troops at midnight outside the (in)justice center downtown. Much of the direct action stuff is only being released less than 24 hours in advance, so if you want to be in the loop, join our Signal chat (by filling in the Volunteer Form here!) The Signal chat and the Volunteer form is also good if you want to find a buddy to go protest with! Here are a few picks in the coming days:
Justice for Patrick Kimmons
Every Thurs, 10:00AM – 12:00PM
Portland City Hall. Please wear black
Kenton Park to PPA Neighborhood Cleanup
Thurs Aug 27 – 3:00PM – 5:00PM
March for Justice for Jacob Blake
Thurs Aug 27, 6:00PM – 11:30PM
Duniway Park, SW 6th Ave &, SW Sheridan S
March on Portland
Fri Aug 28, 12:00PM – 6:00PM
PDX Convention Center
Black Lives Matter Lents Family-Friendly Protest
Mon Aug 31, 6:30PM – 8:30PM
Lents Park Corner of SE Steele St & SE 92nd Ave
Candlelight Vigil in honor of Aja Raquell Rhone Spears
Mon Aug 31, 7:00PM
Peninsula Park
Nightly Protest at the (In)Justice Center
Every night, 7:30PM – Late
Police have consistently been violent at these events, so personal protective equipment is recommended, and pets should stay at home.
SW PDX Black Lives Matter Vigil
Every Weds, 4:30PM – 5:30PM
SW 35th and Multnomah Blvd
Southwest PDX family-friendly sign waving in Solidarity with Black Lives with masks and physical spacing, ongoing until further notice. Plenty of extra signs to borrow. Co-sponsored by 350PDX SW Team, SW Action Group for Social Justice (SWAG) and Stand on Every Corner.
Car Caravan Protest
Wednesdays and Fridays Meet at 5:30PM depart 6:00PM
PCC Cascade parking lot behind Student Services. Albina near Killingsworth.
The Black National Convention
Fri Aug 28, 4:00PM – Online

The Movement for Black Lives (M4BL) and Electoral Justice Project will host the 2020 Black National Convention (BNC) live broadcast. "Together, we will ratify a Black political agenda days after the Democratic and Republican National Conventions and ahead of November, when Black voters will play a pivotal role in determining whether we have four more years of domination or a new set of challenges to overcome.The multi-hour broadcast will be filled with energy, celebration, education, electoral justice, and a vision for Black Lives before the biggest election of our time, and long after."

They also have programming with a Trans, Gender Non-Conforming, Intersex focus today and tomorrow (Aug 26-27) in the run up to the convention. Details here.
Thank you all for the work that you do, stay safe, we're all in this together,
Ashley, Chris, Chuck, Dineen, Indi, Lucy – the 350PDX staff