Hi everyone,
The landmark trial of the "Zenith 5" ended in a mistrial last week, with 5 of the 6 jurors refusing to convict them, despite video evidence of them breaking the law. This was the first time the 'climate necessity defense' was used here in Oregon, which is an argument defendants use to justify illegal actions taken on behalf of the planet. Until last year, the defense had never been successfully used.
The five activists were arrested last April for building a garden on the tracks of Houston-based Zenith Energy's railroad terminal in Portland to protest expansion of the fossil fuel infrastructure.
"That a jury could not convict us of trespass when we showed them a video of us sitting on Zenith's railroad tracks is a partial victory for common sense," said Ken Ward. "It is not a victory in any traditional sense, because we shouldn't have had to take this action to begin with, given the climate catastrophe, but it is a vindication of our call for climate activists to use a climate necessity defense."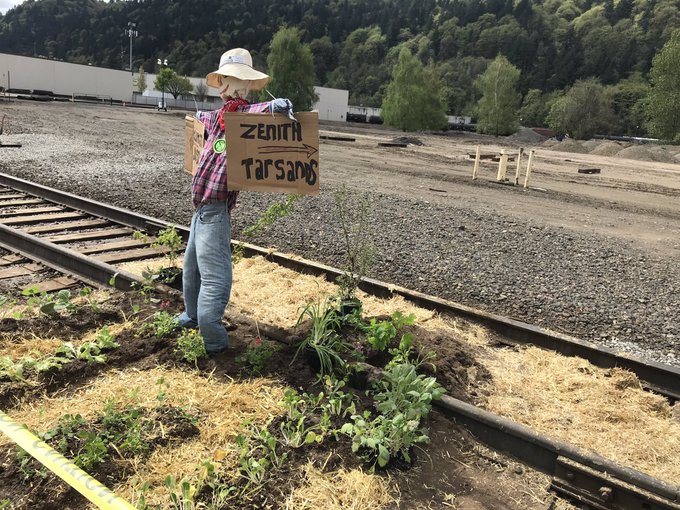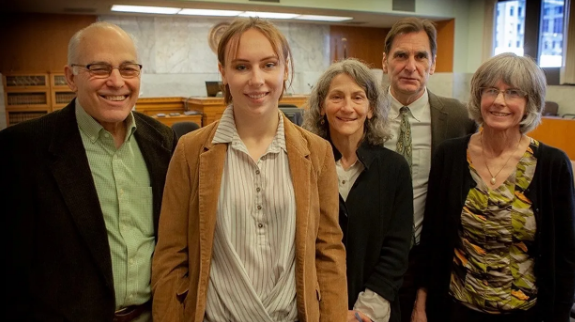 Here's your 350PDX weekly update.
Updates
Goodbye from Anissa

Our wonderful magical Coalition Manager, Anissa Pemberton, is moving on to new pastures. They have brought so much to this organization and have been instrumental in guiding our intersectional focus on climate justice, and our crucial JEDI (justice, equity, diversity and inclusion) work. They will be so sorely missed! Please give your appreciation to them directly at anissa@350pdx.org! Here's a short statement from Anissa:

"Hi everyone, It's been a bittersweet decision, but I have decided to accept a position at Coalition of Communities of Color as the Portland Clean Energy Fund Coalition Coordinator. Thank you for the years of collaborative work at 350PDX, and the opportunity to work alongside some of the most hardworking and dedicated climate justice advocates in Portland. This new position is a great continuance of many of the skills fostered and grown at 350PDX. I will be staying in touch, possibly as a volunteer, but always as a fellow organizer and movement-builder who is passionate about 350PDX's mission. My gratitude goes out to all of the volunteers, board members, and staff members for the times we have shared together. Please keep an eye out for me and feel free to stop by the office to say, "See you soon!
My very best wishes to 350PDX, Anissa Pemberton (they/them)"

Here's the statement from the organizers: "After days of deliberation, the Conference Co-Directors have made the truly heartbreaking decision to cancel the 38th annual Public Interest Environmental Law Conference, which was scheduled to take place March 5-8, 2020. We do not take this decision lightly. The rapidly developing situation with COVID-19 in the Pacific Northwest demanded a cautious response to protect the public welfare." Read more here.

The Earth Day Organizing Fellow will be focusing on the logistics and organizing of the Earth Day 2020 mobilization. Earth Day 2020 is a movement-building event aiming to build and strengthen the climate justice movement's work to push forward an Oregon Green New Deal. This is a paid position. More details and apply here. Deadline Friday March 6.
Requests
Are you interested in helping 350PDX become more accessible to people with disabilities and people whose primary language is not English? Apply to join the Accessibility Committee! Committee members will lead in creating an Accessibility Policy to launch in 2021. The Committee will meet March – October, 2020. Thank you!

We're looking for an intern to help us develop and implement a social media strategy which will amplify our work, advance our campaigns, and help us build the big, beautiful movement that we need. Interested? Know someone who might be? This is an unpaid position. Check out details and apply here!

Sign this petition to demand that JPMorgan Chase remove Lee Raymond from its board of directors. As the petition says, "Lee Raymond, the former CEO and Chair of ExxonMobil — is JPMorgan Chase's Lead Independent Director, whose job it is to put a check on JPMorgan Chase's CEO and Chairman, Jamie Dimon!
Opportunities​​​​

Thank you all for the work that you do, here's to ten years of radical positive change,
Chris – 350PDX Volunteer & Communications Manager