Hi everyone,
This is a painful week. From the lives, homes, and communities lost to the fires, to the poisonous air that the most vulnerable cannot escape from, to the existential dread of the confirmation that the climate crisis isn't a far off future; but that we are living it now. Governor Kate Brown called the winds and fires a "once in a generation event", but she knows and we know that this will be the new normal in a climate changed world. None of this is a surprise, things are unfolding just as climate scientists have predicted.
And yet, if we look hard enough there can be hope even in the smoke. Groups that formed from the Black Lives Matter protests and the pandemic, like Symbiosis PDX and Portland EWOKS (a group of crisis response and medic volunteers), have been turning their mutual aid experience and networks to support people affected by the fires, and they're seeing a massive public outpouring of support. The wildfires have also put the issue of climate change front and center for voters across the country ahead of the biggest election of our lifetimes.
See ways you can support, donate, and volunteer on our wildfire page here.
Earlier this year 11 Republicans walked out of the Oregon legislature to block a climate bill from passing, which halted all lawmaking activity and killed two wildfire protection bills. One was Fred Girod, whose house burnt down in the fires. Despite all the evidence pointing to climate change and industrially plantation forestry that turned our state into a deadly tinderbox, Republicans like Fred Girod are claiming that it is environmentalists to blame for these fires. We need to fight these kind of false claims, so join us for our General Meeting next Monday evening 6PM where we'll hear from Alex Harris on climate change, fire, and mythbusting the misinformation – register here.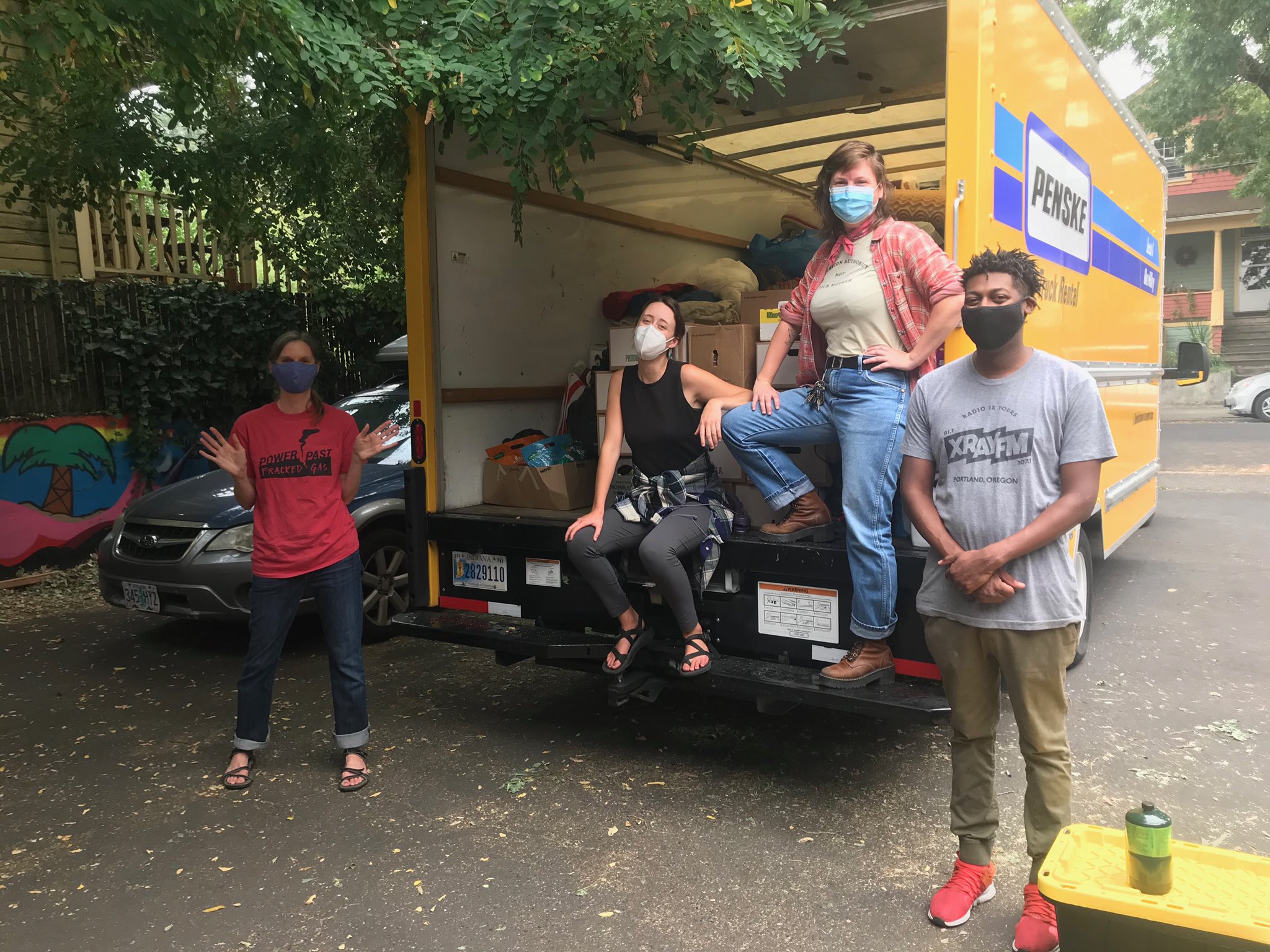 Dineen & Brooke of 350PDX help load up donations and drive them to southern Oregon 
With summer reaching its end, this is also the last week of our summer appeal. This has been a hard summer with donation asks coming at you from all angles. With so much immediate need – from the pandemic, to Black lives, to the wildfires – we know the limits to our emotional resilience and our wallets have been tested. If you're reading this email we want to thank you for not looking away even now when the world is so overwhelming.
But there is also a long-term need, to look beyond the immediate crises to pass climate-smart forest policy and an Oregon Green New Deal. If we are to continue to fight for a green and just recovery from the pandemic, and for transformative change in this next presidential administration, we need your help. Can you make a donation today? 
We are closing in on our goal, but have a way to go. All donations up to our goal will still be matched by a generous anonymous donor, which means your donation will be doubled! Please help us continue our work in this turning point of a year. Thank you.
Here's your 350PDX weekly update!
Actions
Resources
Check out our list of resources about staying safe, and supporting each other in this latest crisis.
Opportunities​​​​
350PDX General Meeting – Wildfire and Climate Change
Mon Sept 21, 6:00PM – Online

Join us for our General Meeting next Monday evening 6PM where we'll hear from Alex Harris of Oregon Wild on climate change, fire, and mythbusting misinformation – register here.

This will be a good chance to see other climate activists, and to process how we're feeling in this moment, and also to start thinking about how to turn that into meaningful climate action.

Portland Black Lives Matter Protests
Every day @ across the city – details here
Click here for our advice for showing up to protest

There are events all day every day, in a whole range of different neighborhoods and at a whole range of different levels of risks – from standing on street corners waving signs in the middle of the day, to COVID-safe car caravans slowly parading around the city, to late night protests downtown. Some events are only being planned or details released less than 24 hours in advance, so if you want to be in the loop, join our Signal chat (by filling in the Volunteer Form here!) The Signal chat and the Volunteer form is also good if you want to find a buddy to go protest with!

Racial Justice is Climate Justice Learning Series
Thurs Sept 17, 6:00PM – Online

Join our friends at 350 Seattle tomorrow Thursday (9/17) at 6pm for the second of their Climate Justice is Racial Justice webinars — a learning series on the ways racial inequities intersect with the threats of climate change. These fights are deeply interconnected, and the way to build a healthy, resilient future is to learn, understand, and support one another in the fight against the systems of oppression that we've all been enmeshed in.

Each week for four weeks, a 350 Seattle team will host a guest speaker who will draw connections between racial justice issues and the work we do in the climate movement. Attendees will have the chance to ask questions, and be offered a clear way to learn more and support each issue.

REGISTER HERE! Sign up for one or all!

"Without a focus on correcting injustice, work on climate change addresses only symptoms, and not root causes."—grassroots advocacy group Bronx Climate Justice North.

Webinar Schedule:

September 17th — Speaker Nikkita Oliver (Decriminalize Seattle) on Defund Police
September 24th — Speaker Maya Garfinkel (Be: Seattle) on Affordable Housing
October 1st — Speakers from Tacoma LNG Resistance on Environmental Injustice

Follow the link to sign up so you don't miss any of the series. For each webinar we will offer closed captioning and will be recording each one to have available afterwards. Please contact Shemona for any further accessibility needs or questions. There is no climate justice without racial justice
Thank you all for the work that you do, stay safe, we're all in this together,
Ashley, Chris, Chuck, Dineen, Indi, Lucy – the 350PDX staff
Every donation counts DOUBLE for the next two week. Please donate now to sustain the movement!