Hi everyone,
This November our democracy is at stake. We are seeing unprecedented voter suppression across the country, with polls being closed, voter rolls being purged, voter intimidation at the polls, and attacks on USPS and mail-in ballots.
We're also seeing efforts to de-legitimize the election process. We have a president who has openly said he might not respect the outcome of our election. We have to be ready if he claims victory before votes are counted, tries to stop counting, or refuses to accept a loss. And if this happens, we need to call it what it is – a coup – and act accordingly.
It is an overwhelming time to be an American, not to mention an activist, and our instinct might be to freeze in the headlights of the multiple crises. But that is exactly what the enemies of democracy are counting on happening. We need to not agonize, but organize.
We at 350PDX are working on our plan with a range of other local and national organizations to mobilize in the post-election period to prevent a coup, and we'll be sharing more of that plan soon. In the meantime, here are two tangible things to do now.
Join the Climate Vote Project nonpartisan Get Out The Vote phone banks
Before the election, the most important thing you can do is get out the vote and fight like hell to protect people's right to vote. In partnership with the Environmental Voter Project, 350PDX volunteers are making thousands of calls to swing state voters who are likely to care about the environment but who don't always make it to the polls. Sign up here and we'll send you a weekly email with phonebanking events happening with our 350 partners every day of the week – so you can engage when it works best for you.
350 Solidarity School – Protecting Votes & Building Power: Climate Justice & the Election
TONIGHT Wed Oct 7, 5:00PM – 6:00PM – Online
Part of the 350.org Solidarity School, tune into this mass call to hear the national strategy for protecting the results of this election and ensuring climate justice is part of it. Register here.
Here's your 350PDX weekly update!
Great news – we reached our summer appeal goal! Thank you so much to everyone who donated this summer and to the amazing person who matched $10,000 in donations. We are a people-powered organization and your support lets us keep fighting for climate justice day in day out.
———-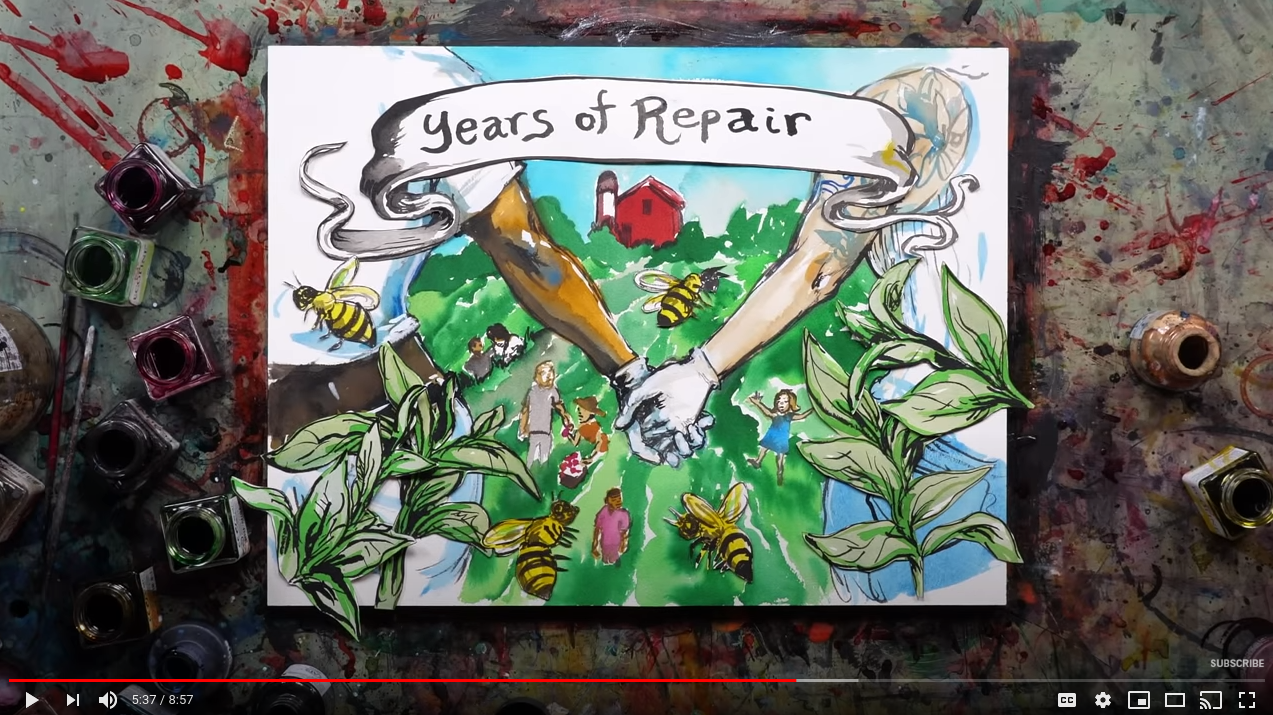 Last year The Intercept and Alexandria Ocasio Cortez came out with "A Message From The Future", a beautiful video envisioning a future after we won the Green New Deal. A lot has changed in the last year, and the same team just released "A Message from the Future II: The Years of Repair" that talks about how we move forward from here – pandemic, polarization, fascism, wildfires. Watch it here.
Actions
All these actions and more can be found on our website's Take Action page – 350pdx.org/action
Resources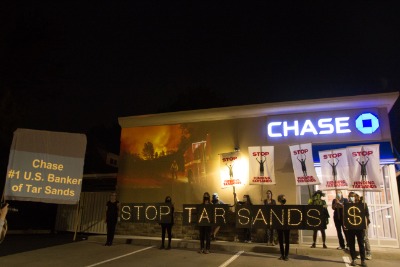 A win for our Defund / Divest team this week! After years of relentless pressure on the bank from climate groups, Indigenous leaders, and shareholder activists, JPMorgan Chase, the world's largest banker of fossil fuels, announced yesterday afternoon that it is committing to push its clients to align with the Paris Agreement and work towards global net zero-emission by 2050. In short, Chase said it is committing to push its clients to align with the Paris Agreement and work towards global net zero-emission by 2050.

CONGRATULATIONS to the Defund / Divest team on this huge step…in a journey that has many steps to go!

The announcement said nothing about reducing the bank's massive lending to fossil fuel companies. Since 2016, Chase has financed over $268 billion of fossil fuels, and as long as they're funding fossil fuels, they're still part of the problem.

So the fight will go on, but it's heartening to see one of the world's biggest banks bending to pressure from groups like ours, and to see that the world's largest lender to the fossil fuel industry has clearly signaled that the fossil fuel game is coming to an end.
Opportunities​​​​
BIPOC Caucus

TONIGHT Wed Oct 7, 5:30PM – 7:00PM – Online

For Black, Indigenous, and People of Color (BIPOC) in the climate justice movement. Email indi@350pdx.org for more details.

Protecting Votes & Building Power: Climate Justice & the Election

TONIGHT Wed Oct 7, 5:00PM – 6:00PM – Online

Part of the 350.org Solidarity School, tune into this mass call to hear the national strategy for protecting the results of this election and ensuring climate justice is part of it. Register here.

350PDX Training: Climate Movement 101
TOMORROW Thurs Oct 8, 6:30PM – 8:30PM, Online

Join us for our revamped training for new volunteers joining the climate justice movement, or for longstanding folks who want a refresher on our theory of change and how the climate justice movement is going to win! Hear about how we got here, where we're going, and what we plan to do about it, and then find your place in 350PDX or the broader movement for social and climate justice! Register here.

Training: Digital Organizing 101
Sat Oct 10, 11:00AM – 1:00PM, Online – register here

Want to learn some more advanced activist skills? Learn digital organizing basics, best practices, tools, and get tips on email and social media strategy (led by 350 Massachusetts).

National Tribal Leadership Climate Change Summit Virtual Sessions: Session #1- Tribal Climate Change Policy

Tues Oct 13, 10:00AM – 1:00PM – Online

While the title indicates Tribal leaders, this opportunity is free and open to anyone interested in learning more about Tribal perspectives on climate change policy. More info here.

Virtual Go Zero Tour 2020

Wed Oct 14, 4:00PM – 6:00PM – Online
Wed Oct 21, 4:00PM – 6:00PM – Online

Residential buildings account for ​almost a quarter of all energy usage​ in the state of Oregon, and zero energy home design is an important strategy in climate adaptation. Join Solar Oregon for two premier virtual explorations of zero energy homes across the state: the Go Zero Tour 2020, presented by Energy Trust of Oregon. This event is part of Sustainable Building Week. Use code: 350PDX to get in for free!

Portland Black Lives Matter Protests
Every day @ across the city – details here
Click here for our advice for showing up to protest

Get more involved in BLM actions through our BLM Volunteer Form here. Here are some actions we've picked out this week:

Peninsula Park March & Sit-In to Stop Systemic Displacement
TONIGHT Wed Oct 7, 8:00PM – 11:30PM
Peninsula Park

Come Chill at Red House this Week
Thurs Oct 8, 9:00AM – 3:00PM
Red House on Mississippi
Family-friendly activities with free food and snacks

March With Us For Breonna Taylor
Thurs Oct 8, 5:00PM – 7:30PM
Revolution Hall, 1300 SE Stark St
They gave her family $12 million dollars for a wrongful death but refuse to arrest the murders of Breonna Taylor. Hold these cops accountable, hold the system accountable and keep coming out!!

PDX Black Collective Night Market
Fri Oct 9, 6:00PM – 10:00PM
215 SE Morrison St, Suite 2004
Every Friday and Saturday!  A safe, clean, indoor space for BIPOC creators to showcase products and services.

Indigenous People's Day of Rage
Sun Oct 11, 7:00PM
W. Waterfront under Burnside Bridge
Thank you all for the work that you do, stay safe, we're all in this together,
Ashley, Chris, Chuck, Dineen, Indi, Lucy – the 350PDX staff