Hi everyone,
Over the last week the police brutality situation in Portland has made frontpage news across the world, with federal officers with the Department of Homeland Security (DHS) descending on our city, firing an alarming amount of CS tear gas, mace, smoke, and munitions at the crowd, grabbing Portland protesters off the street and throwing them into unmarked vans; shooting at a group of moms; and beating a veteran and breaking his hand for standing in the street.
The secretary of the Department of Homeland Security declared that Portland is "under siege." He's not wrong. What he gets incorrect, however, is that this city is besieged by a series of law enforcement agencies, including his own federal police officers, not "violent anarchists." Over the weekend, officers with the Portland Police Bureau and federal agencies sent countless Portlanders to the hospital with swollen eyes, shattered bones, burning flesh, broken ribs, and a lifetime of trauma for showing up to defend Black lives from police violence. [Portland Mercury]
Here are our five big takeaways from this week.
1. Defend the right to protest
350PDX knows that protest is the most effective way, and possibly the only way, to bring about transformative societal change. That's what is needed to tackle the climate crisis, and that's what is needed to fight for racial justice. Defending the right to protest is central to our mission. The Portland local police and now the federal troops are attempting to suppress that right. The only way to fight back is to stand up and show that we cannot be suppressed!
If you've been staying away from the protests so far, now is the time to get involved. Protests until now have been mostly younger folks, but two new parent groups, Wall of Moms and PDXDadPod, have started showing up and forming a barrier between demonstrators and the feds. Turnout in recent nights has been the highest since early June with up to 2,000 people, so it's a good time to join, with bigger crowds generally making it safer for everyone. See below for ways to show up or get involved.
2. Defund the police
The fact that the police have responded to protests about racial justice and police brutality by spiraling more out of control, ignoring orders from the Mayor, City Council, and the Governor, and perpetuating violence has shown that the police simply cannot be reformed in its current state. The recent development of the feds getting involved has brought more media attention, but the story of what is happening in Portland is the same – police (now teaming up with feds) rioting in the city, instigating violence, and trampling our rights. If the argument for defunding or abolishing the police was strong before these protests, it is crystal clear now.
3. This is nothing new to Black communities
Many of us are feeling a deep fear of police for the first time. It's important to understand that this is just a taste of what Black communities have been experiencing every day for centuries. If this feeling is new for you, showing up and participating right now is a good way to start making up for lost time.
4. This is not a distraction from the climate fight
Climate change does not exist in a vacuum. It is a symptom of an underlying economic system that uses tools like racism and police brutality to hold it in place. You cannot have endless growth and fossil fuel sacrifice zones without racial injustice, and you cannot defend an unjust capitalist system without an unaccountable police force. These fights are linked and depend on each other. We need massive social change, and right now our best chance to get it is getting behind the movement for Black lives.
5. Resiliency and creativity in the face of it all
What we've seen over the past 54 days, and especially the last week, is the incredible staying power and resilience of Portland's protesters. The last few nights have had the biggest turnouts since early June. We've also seen creativity and adaptability, from the Wall of Moms forming a wall between feds and demonstrators, to the dads of PDXDadPod showing up with leafblowers to blow tear gas back as the police, to Riot Ribs showing up and feeding protesters and houseless folks and getting constantly raided by the police, only to show up again every day and every night. From the folks who've skilled themselves up to be medics and tear gas extinguishers, to the mutual aid structures and networks that have sprung up to support BIPOC folks through this traumatic time, we are not waiting any longer for the community we want to see; instead, we're building it.
Portland has shown the world it will not be ruled by force. But it did more than that. The Trump administration has openly said that Portland is a preview of a system they intend to unleash on cities across the country, and we proved that they can be resisted. We made them look vulnerable. When they roll into Los Angeles or Chicago or Miami, everyone is already going to know they can be beaten. "Portland did it. So can we."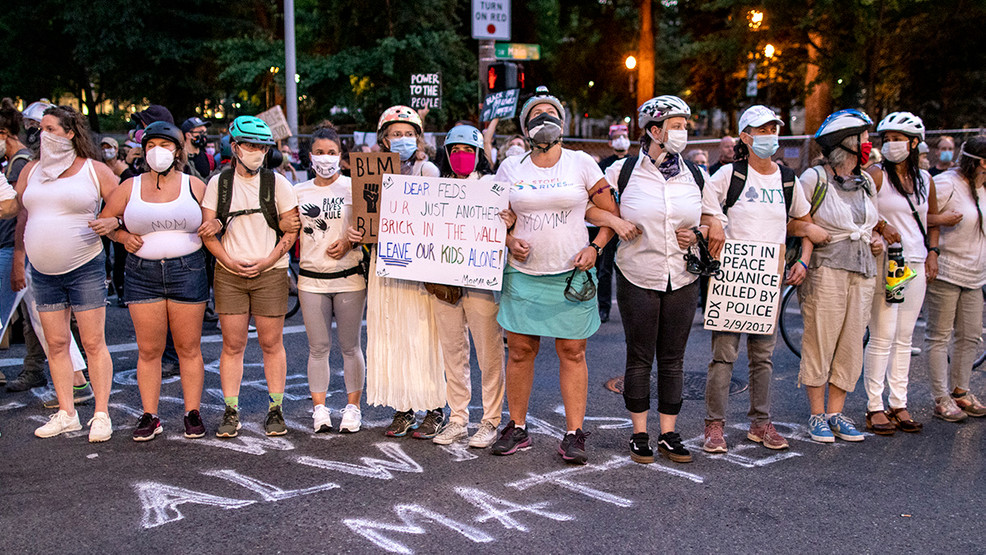 Wall of Moms
What you can do
1. Show up
There are events all day every day, in a whole range of different neighborhoods and at a whole range of different levels of risks – from standing on street corners waving signs in the middle of the day, to COVID-safe car caravans slowly parading around the city, to facing off with federal troops at midnight outside the (in)justice center downtown. Here are a few picks in the coming days:
Justice for Patrick Kimmons
Thurs July 23, 10:00AM – 12:00PM
Portland City Hall. Please wear black
Marching For Housing Equity
Thurs July 23, 6:00PM – 9:00PM
Irving Park to Alberta Park
NAACP Stand on Portland
Thurs July 23, 7:00PM – 11:00PM
(In)Justice Center, 1120 SE 3rd Ave
Wall of Moms [higher risk from police]
Nightly, 8:45PM each night (but check their Twitter first)
Meet at Salmon Springs, at SW Salmon and Naito Parkway
Teachers Against Tyrants [higher risk from police]
Fri July 24, 8:45PM – 11:00PM
Salmon St. Fountain. Wear green, full PPE, and mask up
Wall of Balls – Dodgeball game [higher risk from police]
Fri July 24, 11:00PM
(In)Justice Center, 1120 SE 3rd Ave
Day of Action Against the Federal Invasion [higher risk from police]
Sat July 25, 8:30PM – 11:30PM
Alberta Park
All of these events could escalate into police brutality, we just highlighted the ones that will almost certainly escalate and you should come prepared (see below). Attend at your own risk!
Nervous to attend an event on your own? Fill in our volunteer form and join our Signal text group to find a buddy to go with!
Advice for showing up to protest
Mask up!
Wear a helmet
Bring lots of water
Bring a buddy, if you can
Memorize the National Lawyers' Guild hotline, or write it on your body: (503) 902-5340
Don't film other people's faces. The cops love to retaliate.
(Lilith Sinclair has a much more thorough protest preparation guide that we highly recommend.)\
See a few more resources about what to wear, what apps to use, etc. at this link here.
2. Give supplies / money
– Rosehip Medic Collective looking for a whole range of useful supplies you might have – see the list and how to donate here
– Riot Ribs is looking for things like grills, tents, sleeping bags, ice, and of course, ribs. See the full list here
– Riot Ribs also looking for volunteers – sign up here
– Portland Action Medics is doing an 'old gear drive' – donate helmets, new or gently used knee and elbow pads, wrist guards, shatter-resistant eye protection and goggles. Donate and more info here
3. Other ways to take action
– Join Critical Resistance in writing a letter to each one of the 14,500 people currently held in Oregon's state prisons.
– Black & Pink PDX is seeking pen pals for incarcerated LGBTQ+ folks – sign up to be a pen pal here!
– Petition – Tell Congress to do its jobs and hold Trump accountable and get federal troops out of Portland
Actions
350PDX needs your help to stay in this fight for the long haul! We are still a long ways off from our goal of $25K, but if everyone who opened this email donated just $15 we would more than surpass it!
Updates
Portland DSA's Ecosocialist working group are looking for feedback from households that have been impacted by COVID19 due to job loss and may be experiencing difficulty paying their bills. They are currently conducting research on PGE and Pacific Power. They are requesting feedback from community members, which will help shape the messaging that they plan to distribute on the corruption rooted in private utility companies. Their short-term goal would be to place pressure for public utility forgiveness and the long-term goal is pursuing a public ownership campaign in Portland. Can you spend 5 minutes and fill it in?

The group is speaking out against John Muir, its founder and an environmental icon who fought to preserve nature and disparaged African Americans and Native Americans
Opportunities​​​​
Portland Black Lives Matter Protests
Every day @ across the city – details here

There are protests, vigils, and marches every day and every night, with the exact location and details sometimes only becoming available a few hours before. So please check the PDX BLM events webpage for the day's events, and show up!

Resist and Rebuild: Growing People Power
Sat July 25, 1:00PM, online – register here

Join the Earth Day to Tax Day Coalition on July 25th at 1PM for our final webinar in our series on resisting the military fossil fuel industrial complex. We started this series by defining the root issues behind US militarism and the climate crisis, we've deepened this understanding by hearing the voices of the movements at the forefront of resisting these crises, and now we conclude by discussing how we bring our movements together towards the uprooting of these root problems.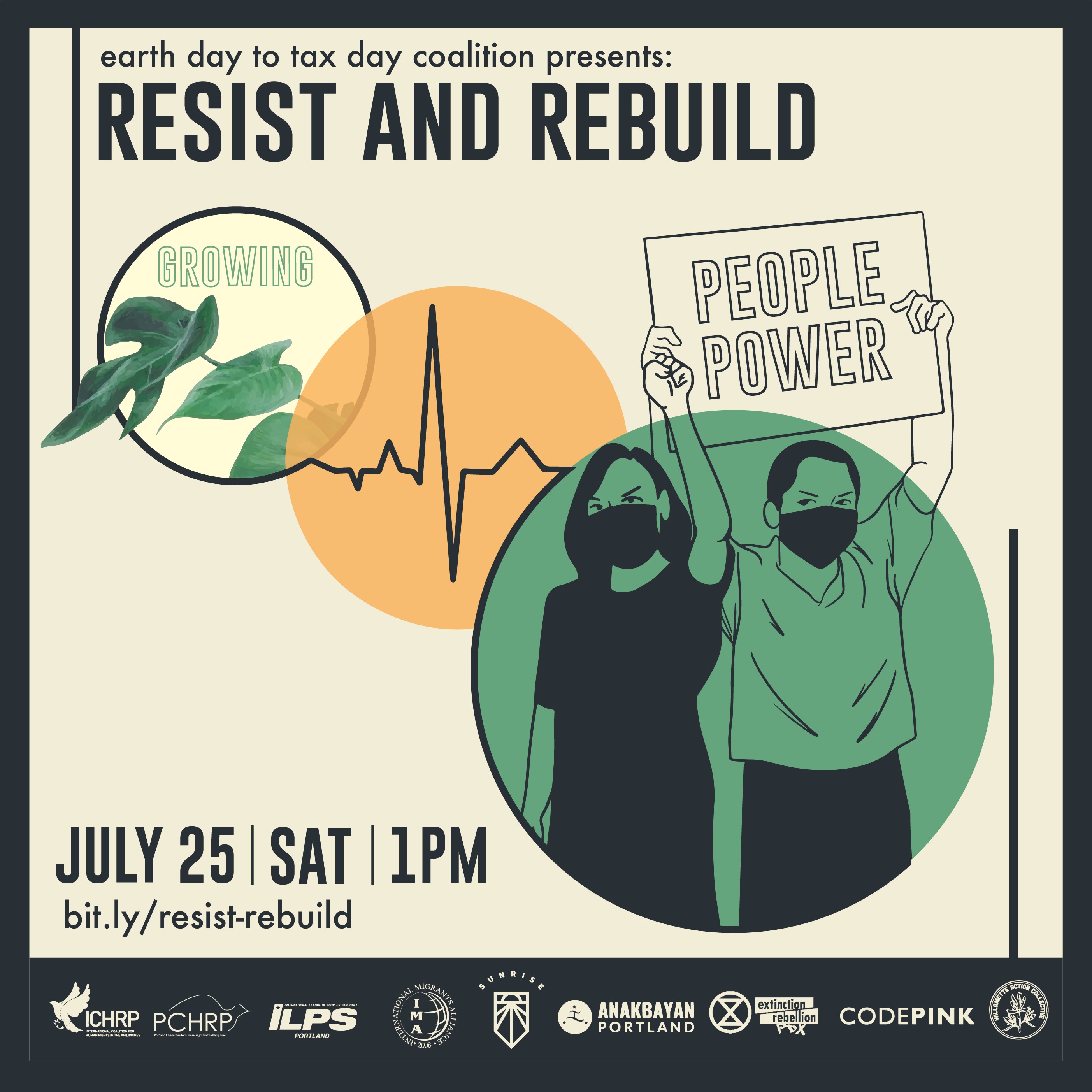 A 350PDX NE Team Special Presentation – The Statewide Climate Action Plan
— Governor Brown's Executive Order on Climate Change: Potential Gains; Possible Pitfalls
Wed July 29, 7:00PM – 8:30PM – Online, RSVP to richpeppers@gmail.com

Governor Brown on March 10th issued a far-reaching Climate Executive Order, dubbed the Oregon Climate Action Plan.  This Executive Order will have statewide impact, and requires over 14 state agencies to factor climate effects into their decision making over a sweeping range of issues, from Transportation and Fuels to Industry Emissions to Utility Regulation, New Building Construction, Forestry, and much more. As the state agencies work to implement this Executive Order, there is an opportunity and a need to engage with the process to strengthen the gains we hope to make in GHG emission reductions, Just Transition provisions, and addressing equity concerns. (Also, to defend it against opponents' attempts to undermine it.)  We hope you will join us for this special event.  (Don't forget to RSVP.)

SW PDX Black Lives Matter Vigil
Every Weds, 4:30PM – 5:30PM, SW 35th and Multnomah Blvd

Southwest PDX family-friendly sign waving in Solidarity with Black Lives, every Wed. 4:30-5:30, SW 35th and Multnomah Blvd. with masks and physical spacing, ongoing until further notice. Plenty of extra signs to borrow. Co-sponsored by 350PDX SW Team, SW Action Group for Social Justice (SWAG) and Stand on Every Corner.
Thank you all for the work that you do, stay safe, and we're all in this together,
Ashley, Chris, Chuck, Dineen, Indi, Lucy – the 350PDX staff
P.S. Indi is our new Coalition Manager! We'll be sending out an intro about her soon!
P.P.S. If you found this email useful then please consider donating to our summer appeal. We're pivoting hard and adapting daily to get behind this movement for transformational societal change, but with this economic crisis we need help from our community to be able to keep going and remain in this fight for the long haul. Thank you!