Hi everyone,
Since long before the Department of Homeland Security deployed masked paramilitary agents to the streets of Portland, the agency has been deploying ICE agents along the southern border and throughout the nation. Some of the tactics we're seeing in Portland, like unidentified officers kidnapping people into vans, have been perfected whilst terrorizing migrant communities.
The links between immigration justice and climate justice are clear. The places in the world hardest hit by increasing heatwaves, droughts, floods, and hurricanes are in the Global South, which have done the least to cause the climate crisis. Millions of climate refugees are expected in the coming decades, and it's up to us whether we welcome them with compassion or put up walls and ICE detention camps.
Immigration injustice, racial injustice, police brutality, and climate irresponsibility are all symptoms of the same root causes, which include the increasing authoritarianism of the current administration and the corporate takeover of our democracy. They are attacking on all fronts in an effort to divide the movement into small manageable issue-based groups, none of which have enough power to take on the establishment.
The only way we can win is by uniting, by aligning with other movements and showing up for Black lives, to #DefundThePolice, to #AbolishICE, as well as to fight the climate crisis.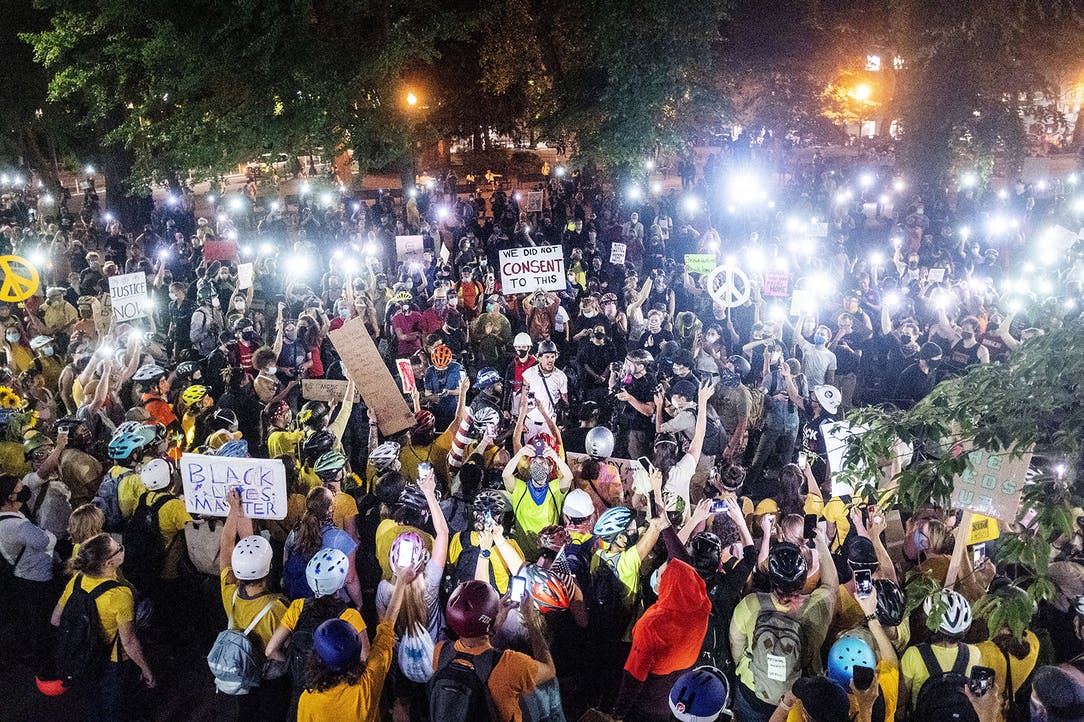 NOAH BERGER – ASSOCIATED PRESS
What you can do
1. Show up
There are events all day every day, in a whole range of different neighborhoods and at a whole range of different levels of risks – from standing on street corners waving signs in the middle of the day, to COVID-safe car caravans slowly parading around the city, to facing off with federal troops at midnight outside the (in)justice center downtown. Here are a few picks in the coming days:
Car Caravan Protest
Wed July 29 & Fri July 31, 6:00PM – 8:30PM
Post signs on your car. Different route each time. Route map provided beforehand at link.
Justice for Patrick Kimmons
Thurs July 30, 10:00AM – 12:00PM
Portland City Hall. Please wear black
The People vs. ICE March & Rally
Fri July 31, 4:30PM – 8:30PM
Location TBA (check the link)
Wall of Grandparents for Black Lives Matter
Every Friday, 2:00PM – 3:00PM
(In)Justice Center, 1120 SW 3rd Ave
Union Member Solidarity Wall
Sat Aug 1 & Aug 8, 9:30PM [higher risk from police]
Salmon St Springs Fountain
Wear your favorite union swag
All of these events could escalate into police brutality, we just highlighted the ones that will almost certainly escalate and you should come prepared (see below). Attend at your own risk!
Nervous to attend an event on your own? Fill in our volunteer form and join our Signal text group to find a buddy to go with!
Advice for showing up to protest
Mask up!
Wear a helmet
Bring lots of water
Bring a buddy, if you can
Memorize the two National Lawyers' Guild hotlines, or write it on your body:
— (971) 247-1072 if you're *in* jail
— (833) 680-1312 if you were released from jail, saw someone get arrested, a friend was arrested, experienced police brutality, or were directly contacted by law enforcement.
Don't film other people's faces. The cops love to retaliate.
(Lilith Sinclair has a much more thorough protest preparation guide that we highly recommend.)
See a few more resources about what to wear, what apps to use, etc. at this link here.
2. Give supplies / money
– Rosehip Medic Collective looking for a whole range of useful supplies you might have – see the list and how to donate here
– Riot Ribs is dissolving their organized efforts on the ground. See their press release here for more info. They're encouraging folks to give to Revolution Ribs (Riots Ribs but on the road, bringing mutual aid food distribution to other cities protesting across the country).
– Portland Action Medics is still doing an 'old gear drive' – donate helmets, new or gently used knee and elbow pads, wrist guards, shatter-resistant eye protection and goggles. Donate and more info here
– The Witches are downtown providing supplies, medics, food, drinks, water and candy. Find what they need and how to donate on their twitter.
Actions
Call DEQ about indisciminate tear gas use

From Neighbors for Clean Air – "Are you horrified at the indiscriminate use of tear gas by the Feds on demonstrators exercising their 1st Amendment rights downtown? Even for those not getting directly gassed, the residue is building up and affecting so many in the area. You can do something about it by calling the DEQ and make a complaint. If they get more than 10 complaints, they have to investigate. Call 1-888-997-7888!

Ask your Portland friends and family to subscribe to this newsletter!

Think these weekly updates are useful? We put a lot of effort into them and would love it if more people read them! If you're so inclined please feel free to forward this email on and ask them to sign up at 350pdx.org. Thank you!

You'll have received this in your inbox on Monday, and we've already had 260 responses(!), but if you've not filled it in already, now's your chance. 350PDX is currently mobilizing a lot of our energy behind the movement for Black lives. We want to figure out what this will look like for the long-term, so we'd like to hear your perspectives, feelings and insights as we move forward.

Can you fill in this 10 minute survey here? Deadline midnight Fri 31st July. Please note this survey is ANONYMOUS unless you choose to provide your contact information for a possible follow-up phone conversation. Thank you for sharing your valuable time with us!

350PDX needs your help to stay in this fight for the long haul! We are still a long ways off from our goal of $25K, but if everyone who opened this email donated just $15 we would more than surpass it!
Updates
Opportunities​​​​
Portland Black Lives Matter Protests
Every day @ across the city – details hereThere are protests, vigils, and marches every day and every night, with the exact location and details sometimes only becoming available a few hours before. So please check the PDX BLM events webpage for the day's events, and show up!
Training: Keeping Yourself Healthy & Safe at a Protest
TONIGHT Wed July 29, 7:00PM – 9:00PM, online – Share Facebook event here2 hour training taught by local Seattle Street Medics and 350 Seattle. Come learn how to be mentally and physically prepared for being on the streets protesting. What to bring, what to wear and what to expect! We will talk about:* Physical and mental self-care before, during and after an action
* Jail self-care
* What to bring and what to expect at an action.
* Chemical weapons and potential police tactics that can be harmful.
* Spreading calm and rumor control
Training: Untangling Colonialism – Building a Decolonizing Framework
TONIGHT Wed July 29, 6:00PM, online – register hereTraining from Native Movement. A decolonizing practice requires recognition of the history of colonization and its current manifestations. This training briefly covers United States Federal Indian Policy carried out dominantly in the lower 48 and its expansion into Alaska policy and the implications on Alaska Native peoples. Additionally, participants will discuss how the history of environmental conservation has mirrored colonial world-views and what possible strategies we can further in order to decolonize conservation. This training delves into the spectrum of decolonizing strategies; from various personal, institutional, and systemic pathways forward.
A 350PDX NE Team Special Presentation – The Statewide Climate Action Plan
— Governor Brown's Executive Order on Climate Change: Potential Gains; Possible Pitfalls
TONIGHT Wed July 29, 7:00PM – 8:30PM – Online, RSVP to richpeppers@gmail.comGovernor Brown on March 10th issued a far-reaching Climate Executive Order, dubbed the Oregon Climate Action Plan.  This Executive Order will have statewide impact, and requires over 14 state agencies to factor climate effects into their decision making over a sweeping range of issues, from Transportation and Fuels to Industry Emissions to Utility Regulation, New Building Construction, Forestry, and much more. As the state agencies work to implement this Executive Order, there is an opportunity and a need to engage with the process to strengthen the gains we hope to make in GHG emission reductions, Just Transition provisions, and addressing equity concerns. (Also, to defend it against opponents' attempts to undermine it.)  We hope you will join us for this special event.  (Don't forget to RSVP.)
Banking on Climate Change Webinar Series
Thurs July 30, 9:00AM, online – register hereFrom Stop the Money Pipeline – "We're in the midst of a global pandemic. People around the country are taking to the streets to defend Black lives and protest police brutality. The clock keeps ticking on climate change. Throughout it all, big banks are continuing to fund fossil fuels. By funding fossil fuel companies and projects, banks press the gas pedal on climate change. This is part 2 in a series, but they are designed so that each part stands alone. This week we will pull back the curtain on bank greenwashing, from their fossil fuel policies to their public statements."
Feds Out of Town: Resistance to Trump's Federal Deployment of Agents
Thurs July 30, 6:30PM, online – register hereWebinar from the National Lawyers Guild: "Join us for an update from Portland and a discussion of how we are and can resist Trump's attack on freedom of speech and assembly. Trump is deploying federal agents to target cities with strong Black Lives Matter protest and Black liberation movements. He is using federal agents, including border patrol, and brutal crowd control weapons against protestors demanding an end to police violence. As he has during his time in the white house, he is mobilizing white supremacists to operate in parallel with federal repression. He is using our demands for justice and an end to racism to target Black communities, immigrants and free speech. As always, from Portland to Chicago, Baltimore to Oakland, movements for justice, activists and impacted communities are responding with fierce determination.Join NLG-SF for an update on conditions on the ground in Portland, an analysis of Trump's violations of the constitution and the rights we can demand, and a discussion of the ways we are and can continue to resist."
PDX Special Election: Listening Session with Dan Ryan and Loretta Smith
Thurs July 30, 7:00PM – 8:30PM, online – register hereYouth Climate Justice leaders and Sunrise PDX are hosting a listening session with Dan Ryan and Loretta Smith to give voters a chance to hear how the candidates respond to questions on climate and racial justice. Ryan and Smith are both running for Portland City Council in the August Special Election.
De-escalation / Peacekeeper Training
Sun Aug 2, 7:00PM – 8:30PM, online – Share Facebook event here
During this challenging time, we face the pandemics of Covid-19 and racism, as well as climate crisis. And as organizers and activists, we continue to evolve the best ways to respond. We invite you to skill-up in de-escalation and to learn some of the roles for actions that will continue to be part of our efforts. People trained in de-escalation (peacekeepers) can help create a successful demonstration/action! In this interactive training you'll learn and practice:• emotional grounding techniques
• skills to defuse and de-escalate potentially volatile situations
• how to work together as a team of peacekeepers
• situational awareness
• additional roles that can help create a successful actionHosted by 350 Seattle and Sunrise Seattle
SW PDX Black Lives Matter Vigil
Every Weds, 4:30PM – 5:30PM, SW 35th and Multnomah BlvdSouthwest PDX family-friendly sign waving in Solidarity with Black Lives, every Wed. 4:30-5:30, SW 35th and Multnomah Blvd. with masks and physical spacing, ongoing until further notice. Plenty of extra signs to borrow. Co-sponsored by 350PDX SW Team, SW Action Group for Social Justice (SWAG) and Stand on Every Corner.
Thank you all for the work that you do, stay safe, and we're all in this together,
Ashley, Chris, Chuck, Dineen, Indi, Lucy – the 350PDX staff
P.S. Watch John Oliver Mock Ted Wheeler With a Terrifying Teddy Bear on "Last Week Tonight"
P.P.S. If you found this email useful then please consider donating to our summer appeal. We're pivoting hard and adapting daily to get behind this movement for transformational societal change, but with this economic crisis we need help from our community to be able to keep going and remain in this fight for the long haul. Thank you!