Hi everyone,
Fighting for racial justice is fighting for climate justice. You can't have one without the other. There is no way to tackle the climate crisis fairly without addressing the systemic racism that fuels it. This is key to our mission and values at 350PDX. If you need a reminder of why that is, you can read this.
So in this time when we've been brutally reminded of the ongoing crisis of racial injustice, it's time for all of us, especially the white folks in our movement, to step up and take action – by learning, listening, donating, talking to our problematic relatives and friends, and being an active part of this fight for justice.
To know where to start see the Movement for Black Lives Week of Action here, read the statement that 350PDX staff and board put together here, and explore our webpage of Environmental Justice & White Supremacy resources.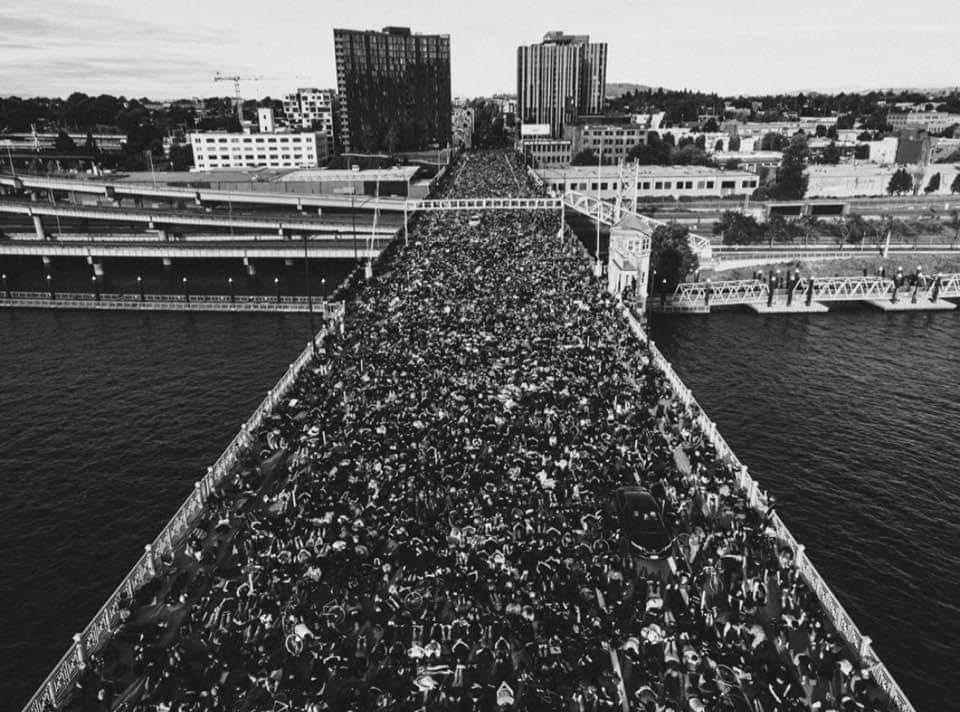 Yesterday's 9-minute "die-in" on the Burnside Bridge
Here's your 350PDX weekly update.
Actions
COVID-19 Resources
Check it out for the full list of resources for self care, community care, tackling bias/xenophobia, volunteer opportunities, and organizing during this time. Take a look here.

In this time of mass protest, police brutality, and ominous threats coming from the White House, now may be a good time to brush up on your online security to protect yourself and your friends from online spying.
And finally, a bit of good news this week.
In Washington DC, and across the country, major groups and players are beginning to unite around a bold climate platform, for the first time in memory. The notion of weakening climate bill proposals in order to compromise with Republicans and get bipartisan support is being rejected, after being shown to be a losing strategy for the last decade. And so a broad coalition has formed of establishment Democrats, the progressive wing of the party, frontline community groups, and groups like the Sunrise Movement and labor unions. There will still be a fight to make it more ambitious, and to make it win, but this is a really heartening step forward. Read the Vox article here.
Opportunities​​​​
What We Must Do to Dismantle White Supremacy
Thurs June 4, 5:00PM – 6:00PM @ Online – RSVP hereWe are in a moment where people are rising up and taking to the streets to demand justice for Black lives. What has transpired over the past weeks is weighing heavily on us. The state sanctioned violence against Black bodies against the landscape of the current pandemic has reached a fever pitch.

Join 350.org's webinar to hear from our organizing department, partners and frontline organizers about ways you can show up in this moment. We will be getting politically aligned around what it means to steep our work in racial justice and equity, ways to work towards dismantling white supremacy and actions you can take to support Black lives. We must defend Black lives and take collective action!

The Long and Twisted Tale of Jordan Cove LNG – Zoom Documentary Slideshow Premiere
Fri June 5, 6:30PM – 8:00PM @ Online – RSVP hereBarbara Bernstein & Damon Motz-Storey host with Rogue Climate, No LNG Exports, Power Past Fracked Gas, Oregon Physicians for Social Responsibility are excited to invite you to a Zoom premiere on Friday, June 5th from 6:30-8:00 pm presenting "The Long and Twisted Tale of Jordan Cove LNG," a slideshow that accompanies Part Two of Barbara Bernstein's "Holding the Thin Green Line" radio documentary series. Please join us for a viewing of the slideshow (57 minutes) plus a Q&A session immediately afterwards with impacted landowners, community organizers and land and water protectors who are featured in the documentary.

Panel Speakers: Taylor Tupper (life-long Klamath County resident and individual tribal member), Stacey McLaughlin (impacted landowner), Larry Mangan (impacted landowner), and Allie Rosenbluth (Rogue Climate).

This slideshow was conceived originally to show at community gatherings to educate the wider public about what's at stake for the people of Southern Oregon – as well as our entire region – and the planet – if the Jordan Cove LNG Export Terminal and Pacific Connector Gas Pipeline get built. This slideshow puts faces to the people whose stories are told in the radio documentary and shows the landscapes that would be destroyed by this fracked gas pipeline and export terminal. But until the COVID-19 pandemic is over we are resorting to Zoom to create these community gatherings. Facebook event here.

A Letter Writing Session for Philippine Seafarers
Sat June 6, 3:00PM – 4:30PM @ Online – RSVP hereThe Philippines is one of the most vulnerable countries to climate change in the world, and environmental justice activists face severe and sometimes fatal repression. As such we stand in solidarity with PCHRP (the Portland Committee for Human Rights in the Philippines), who are hosting this online session. "Come learn about the conditions of Philippine seafarers, many of whom are stuck at port including in Portland and Vancouver during the COVID-19 crisis. Then, stick around to write your own letter to the seafarers showing your support! Donate to the fundraiser that is raising money to purchase SIM cards so they can talk to their families back home."
Thank you all for the work that you do, stay safe, and we're all in this together,
Ashley, Chris, Chuck, Dineen, Lucy – the 350PDX staff