Hi everyone,
Beaverton City Council last night voted unanimously to approve their first Climate Action Plan, which mandates net zero emissions by 2050. While this isn't fast enough, this is a big step in the right direction, so congratulations to all our friends in Washington County!
Here's your 350PDX weekly update!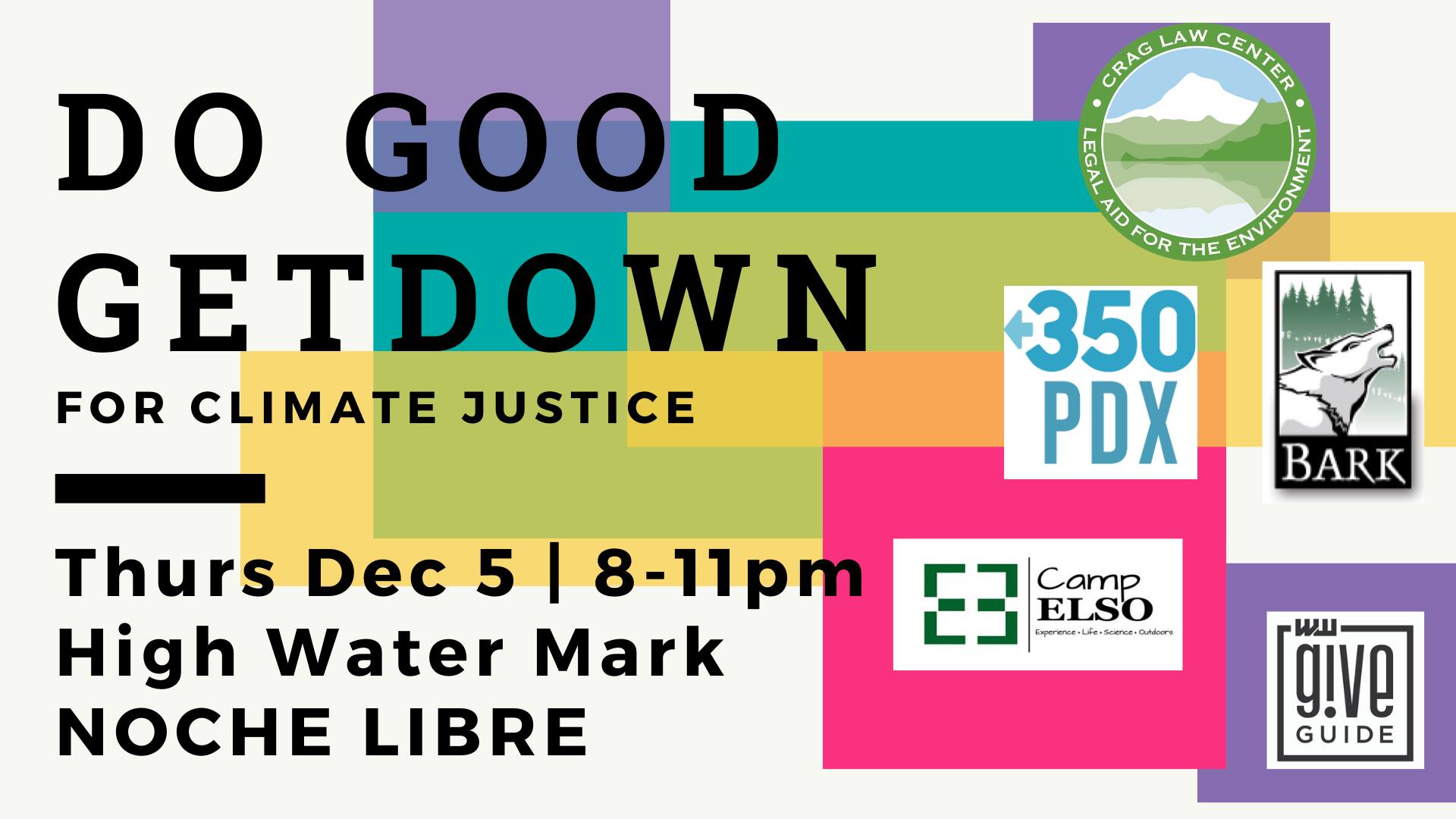 Updates
350PDX, Bark, Crag Law Center and Camp ELSO have joined forces to put on a groovy Give Guide event. Please break out your funkiest retro look and join us for a night of far out beats provided by the Latinx DJ collective Noche Libre! We will also have a photo booth, raffle prizes and endless groovy vibes! So be sure to invite your friends, can you dig? To get your tickets you must donate $10 or more on the day of the event (12/5) to one of the participating organizations through the Give! Guide. *This event is 21+*

When – Thurs Dec 5, 5:00-8:00 pm RSVP here
Where – High Water Mark Lounge, 6800 NE M L King Blvd, Portland


Our very own Dineen is quoted in this article about the proposed new Perennial Wind Chaser 415-megawatt fracked gas-fired power plant in Eastern Oregon.
Requests
Texters and Thank You Card Writers needed!

I'm looking for more folks to join my On Call Task Team with the specific focus right now on: 1) texting a bunch of people to let them know about the big Jordan Cove rally, and 2) writing thank you cards here in the office. Interested? Let me know! Email chris@350pdx.org.

Our region has been fighting the Jordan Cove fracked gas project for over a decade. And now, the stakes are higher than they've ever been before.

In the next few months, the Federal Energy Regulatory Commission (FERC) will try to rubber stamp this project. At the same time, the Trump Administration is attempting to rewrite important environmental laws, like the Clean Water Act, to take away states' authority to stop fossil fuel projects like this. This is deeply wrong, unjust, and demands action from all of us.
Governor Brown: The time is NOW!
When: Thursday, November 21. 11:00 AM.
Where: State Capitol, Salem (900 Court St. NE)
What: Join hundreds for a rally to tell Governor Brown that it's time to stop the Jordan Cove project once and for all. Wear red, bring your friends, & join in the fun!
Stay tuned for upcoming details about carpools.
RSVP here, and invite your friends on Facebook here.
November 22nd: Tell Chase no to the Jordan Cove pipeline! Join the #CutTheChaseChallenge.

What happens when you use your Chase credit card (including Southwest Airlines, United Airlines, Amazon Prime, and others)? A percentage of the money you spend goes to JPMorgan Chase, the largest funder of fossil fuels worldwide and the only major U.S. funder of the Jordan Cove pipeline project. On November 22nd, join us in sending a message to Chase. Whether or not you have a Chase credit card, click here to learn how you can join the #CutTheChaseChallenge to #DefundJordanCove, and please RSVP / share the event on Facebook!
Opportunities
TOMORROW Thurs Nov 14, 11:00AM – 12:00PM @ Double Tree Hotel, 1000 NE Multnomah St, Portland

The Environmental Quality Commission is the rulemaking board of the Department of Environmental Quality. Community members will be testifying about Zenith, the Perennial fracked gas power plant, the Covanta garbage incinerator, and more. If you're interested in testifying or would like more information, email dineen@350pdx.org. Wear red!

TOMORROW Thurs Nov 14, 5:30PM – 7:30PM @ 350PDX, Central Lutheran Church, 1820 NE 21st Ave, Portland RSVP here.

As individuals and groups, we experience varying levels of privilege and power. Recognizing our relationship to institutionalized oppression can bring feelings of defensiveness, guilt, shame, rage, terror, and grief, among other emotions. How can we craft transformative pathways for these feelings to unfold in ways that deepen our collective healing, rather than taking away from it? What transformations can we unlock when we choose courage, creativity, and compassion? What do we, as individuals and communities, need in order to heal and thrive in a beautiful and broken world? Facilitator Ridhi D'Cruz invites us to metabolize our participation in systems of oppression with vulnerability, forgiveness and empathy. This conversation may include hands-on activities. Facebook event here.

Fire Drill Fridays

Fri Nov 15, 12:00PM – 1:00PM @ Portland City Hall, 1221 SW 4th Avenue, Portland

Public vigil each week — same time, same place — delivering the message that we must continue to oppose expansion of fossil fuel infrastructure in Portland. The message is also to give appreciation to the City and County governments when they act courageously and collaboratively with us and to pressure them to continue to ramp up their opposition. All are welcome to participate in this nonviolent Friday fixture. Bring a sign saying something like "Stop Zenith Energy" or "Fire Drill Fridays" if you have it!
Wed Nov 20, 5:30PM – 8:00PM @ Metro Regional Center, council chamber, 600 NE Grand Ave, Portland

Save the date for the next big Metro hearing. Read more about it here.
Thurs Nov 21, 11:00AM – 12:30PM @ Oregon State Capitol, 900 Court St NE, Salem Wear red! Facebook event here.

Governor Brown, communities across the Pacific Northwest are calling on you to join them by stopping the Jordan Cove LNG export terminal and fracked gas pipeline. For over a decade, this project has threatened private and public lands, tribal sites and cultural resources, public safety, and existing jobs in fishing, tourism, and more. Governor Brown cannot claim to be a climate champion while remaining silent on a proposed fracked gas export project that would become Oregon's single largest climate polluter.

That's why our communities will join together at a rally at the state capitol to tell Kate Brown that the time is now: deny all state permits, challenge the Federal Government's power grabs, and join us in protecting health, safety, and our climate from Jordan Cove LNG.

We will rally on the front steps of the State Capitol Building (900 Court St NE) in Salem, OR at 11:00am on Thursday, November 21st.

Sun Dec 1, 4:00PM – 7:00PM @ Base Camp Brewing Company, 930 SE Oak St, Portland. Facebook event here

Save the date! Let's come together and celebrate almost a year of fierce and sustained organizing against Zenith, Global Partners, and fossil fuel infrastructure in Portland!

Together with our partners, we've all held forums and rallies, filled petition sheets and packed City Hall, taken to the streets with the youth, and stood vigil over the facility throughout the night. And even as the terminal continues to operate, we've won significant victories: the City has denied new permits for Zenith, and the County has committed to institute fossil fuel risk bonds to hold polluters accountable. Momentum is building.

So join us as we share stories, get to know one another better, and celebrate together as we embark on the long struggle to come!
Thank you all for the work that you do, and for being part of this ____ and ____ movement,
Chris – 350PDX Volunteer & Communications Coordinator
P.S (Have you noticed I've been going through the alphabet each week? Last week we had a zealous and zesty movement, and so now I've run out of letters. Any suggestions on what I should do next?)