Hi everyone,
The King of the Climate Deniers, Lee Raymond, has been demoted at JPMorgan Chase. It's always empowering to see such direct positive results of our campaigns. In a big victory for the national Stop The Money Pipeline campaign of which 350PDX's Defund/Divest team is a central player, and just a few weeks after our Digital Chase Takeover on Earth Day, it was announced Friday that Lee Raymond will no longer serve as the Lead Independent Director of Chase's Board. As the New York Times reported this is a big win for us ― and in particular, our coalition partner, Majority Action, who devised and led this campaign. We're not done yet, he's still on the board for now, but this is a crucial step forward. So congratulations Sue and Jenifer and the rest of the Defund / Divest team! They're always looking for new volunteers to join the fight, and you can sign up to volunteer here. Read Bill McKibben's take on this amazing news here.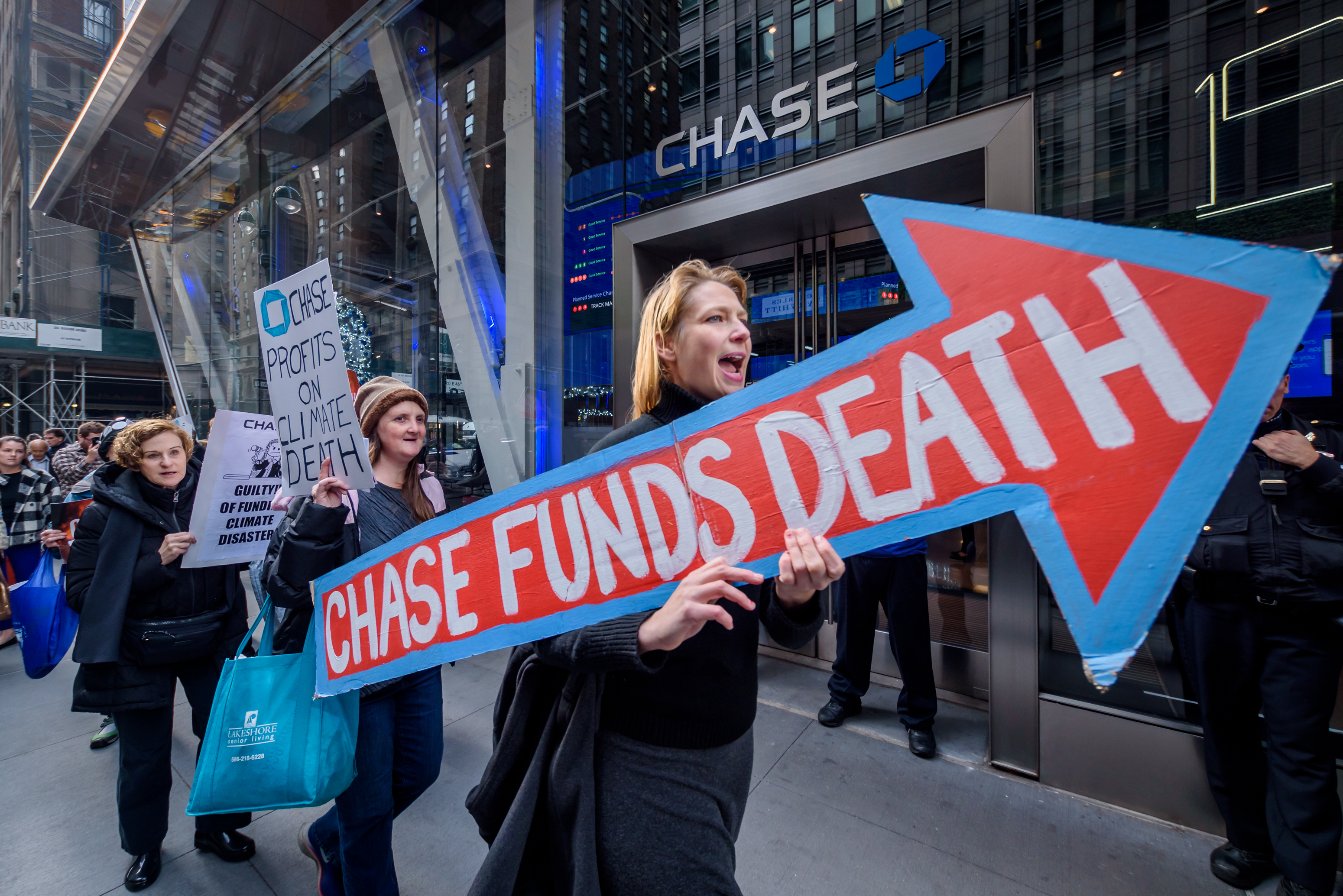 ——————————-
Check out the 350PDX Actions page for all the actions you can take right now. It's different every week and there are 6 actions on there right now!
Here's your 350PDX weekly update. Let's start with some more good news this week!
More people than ever have been going outside and using the neighborhood Greenways to exercise, or just get some fresh air, while physically distancing. And so the City of Portland is rolling out 100 new car-free streets across the city – the Slow Streets Safe Streets initiative. This is a great example of a glimpse of a new, more sustainable, and people-focused future that this pandemic is revealing to be possible.
COVID-19 Resources
Our biggest priority right now is making sure folks in the 350PDX community can get the support they need. Please use the request support form if you would like food and other supplies delivered to you, and the offer support form if you would like to volunteer to help. It is being run by an all-volunteer grassroots network that has sprung up to provide mutual aid across the city.

Check it out for the full list of resources for self care, community care, tackling bias/xenophobia, and organizing during this time. Take a look here.
Actions
All these actions and more are listed on the new 350PDX Actions page!
Opportunities​​​​
Unjust Care: Pandemics & Race
TOMORROW Thurs May 14, 10:00AM – 11:30AM @ Online – Register here

Part of the Oregon Environmental Justice Pathways Summit. This webinar will shed light on the racial impacts of COVID-19, noting historical patterns observed during pandemic-like situations and how communities are shaping a caring response to a public health crisis in place of an efficient government plan. The webinar panel will be moderated by Haley Case-Scott, Climate Justice Grassroots Organizer with Beyond Toxics and the NAACP Eugene/Springfield. Share Facebook event here.

Universal Preschool Now! Parent Organizing Meeting
TOMORROW Thurs May 14, 7:30PM @ Online – Register here

350PDX endorsed the Universal Preschool Now! campaign which will be on the ballot for Nov 2020 in Multnomah County. They have a kickoff meeting for parents coming up – "Are you a parent burdened by the high cost of childcare? Do you want to see free, universal preschool in your community? Then we need you to join the Parent Organizing Committee! Attend our first meeting this THURSDAY May 14th at 7:30 PM to learn how to plug in to this exciting campaign."
One World Films and Conversations: We Are All Related Here
Sat May 16, 2:00PM – 4:00PM @ Online – RSVP here

Join 350.org Washington County virtually online for another thought-provoking film and conversation. We hope for a great turnout and conversation just like our past film events. Bring your friends and family and let's explore issues and talk! We Are All Related Here (50-minutes) is a documentary film that tells the story of the Yup'ik people of Newtok, Alaska, who are being forced to relocate to their village due to the erosion and flooding they are experiencing as a result of global warming. We meet some of the people The New York Times, The Guardian and NPR are calling America's "climate refugees," and learn about the history and culture of the Yup'ik people of Newtok, who are being forced to relocate their village due to the erosion and flooding they are experiencing as a result of global warming.

The Green New Deal: A proposal to address climate change and inequality
Thurs May 21, 6:30PM – 8:00PM @ Online – RSVP here

Speakers: Mark Darienzo and Rachel Slocum, volunteers in the 350PDX Green New Deal team

The Green New Deal is a vision to address the climate and inequality crises by using public investment to rapidly reduce emissions, improve collective well-being, and overcome historically-rooted disparities. Speakers will discuss the origins of the Green New Deal, show a short video, and propose what the nation needs to do to make it reality. This conversation, co-sponsored by the Vernon and Humboldt Neighborhood Associations, is a opportunity for everyone on a local level to discuss this effort, ask questions and envision what this movement could bring to our communities.
Thank you all for the work that you do, stay safe, and we're all in this together,
Ashley, Chris, Chuck, Dineen, Lucy – the 350PDX staff