Hi everyone,
Joe Biden is the President-Elect and we enter a new era of US politics.
Despite voter suppression, climate disasters, and the pandemic, the turnout rate of 62% was the highest in 50 years, with 148 million Americans going to the polls. One main driver of this was a surge among Black, Latino, Asian and Native American voters, as well as the highest youth turnout in history.
The climate crisis was a top issue in this election, with 7/10 voters supporting the government to take transformative action on climate breakdown.
We want to thank hundreds of volunteers, including 130 volunteers from 350PDX, who helped 350.org get out the vote and helped to make more than 500,000 calls to environmental voters in 12 states including AZ, CO, NH, FL, GA, PA and NC.
And despite Trump's best efforts, we're drifting further from the possibility of a coup. The best way to stop a coup is to never have one, and the preparation and training of tens of thousands of people around the country sent a clear message to would-be coup collaborators (senators, governors, parts of the media, state legislatures, etc.) that their chances of success would be slim. So far we haven't needed massive mobilizations to hold back a power grab, but that's partly because we deterred that power grab by being ready to massively mobilize.
There's still reason for concern, but right now Trump's campaign has the support of individuals, but not institutions. Their lawsuits aren't going anywhere, and the narrative being put out by the Trump campaign is not being validated by the mainstream media or election officials. All these efforts are not building momentum in the institutions that determine the election outcome. We'll continue to monitor the situation closely and will let you know if anything significant changes.
Us activists can sometimes forget to celebrate. This has been a hard and stressful time and while we should still be vigilant, and while there is a lot of work ahead of us, we should take this win. The decade of the Green New Deal is here. Celebrate yourself and others, and rest up; now, we have a world to win.
Here's your 350PDX weekly update.
A Biden/Harris presidency gives us a fighting chance on climate, but we'll still have to fight for it. Between now and Inauguration Day our job is clear: Put as much pressure on Biden to use the full power of the Presidency in his first 100 days to combat the climate crisis.
If Congress remains divided, climate legislation will be difficult to pass. That's why we're focusing on the measures that Biden can take immediately to keep fossil fuels in the ground and build a just transition.
End fossil fuel extraction on public lands.
End crude oil and gas exports.
Deny permits for new fossil fuel infrastructure projects and rescind federal permits for Keystone XL.
Stop fracking through EPA pollution rules.
Create a Just Transition task force.
Investigate and prosecute fossil fuel polluters.
Direct federal agencies to assess and mitigate environmental harms in low-income areas and communities of color.
End fossil fuel subsidies.
Use the Clean Air Act to set a science-based national pollution cap.
Ensure a just and equitable recovery from climate-related disasters.
Actions
All these actions and more can be found on our website's Take Action page – 350pdx.org/action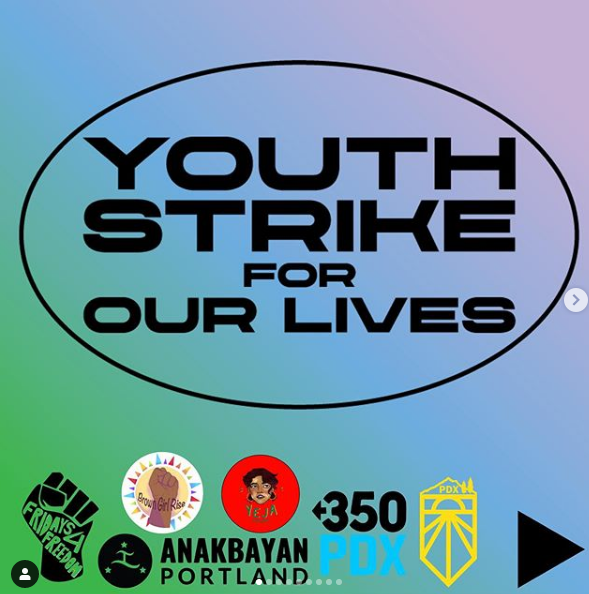 Youth Strike for Our Lives (YSOL) is a BIPOC-led youth coalition based in Portland that 350PDX helps to coordinate. We're putting on a week of action Sat Nov 14 – Fri Nov 20 in support of Black liberation, abolition, Indigenous sovereignty, environmental justice, gender equity, and educational equity for a livable future. Join us at these events and follow @yslives on Instagram and Twitter for more actions!

Kickoff event – Fighting for Anti-Fascist Futures (link)
Sat Nov 14 – Meet 2:00PM, March 3:00PM
Meet east end of Hawthorne Bridge

Fighting for Indigenous Futures (link)
Sun Nov 15 – (online) 5:00PM
A telethon for the Red House on Mississippi

Fighting for a Livable Future (link)
Mon Nov 16 – (online) 4:00PM – 5:00PM
Webinar focused on the climate crisis and environmental justice

One of the main demands from our massive Climate Strike last year was for the City of Portland to adopt a Climate Test policy, and the City listened! This test would ensure that City infrastructure investment decisions are informed by the best available climate science. A public comment period just opened asking for youth to weigh in on the policy.

Mon Nov 2 – Fri Nov 20. Please submit comments to danny.grady@portlandoregon.gov; write "Portland Climate Test public comment" in the subject line. More info here.
Updates​​​​
Opportunities​​​​
Thank you all for the work that you do, stay safe, we're all in this together,
Ashley, Chris, Chuck, Dineen, Indi, Lucy – the 350PDX staff