Hi everyone,
The last few weeks have shown us that climate chaos is more than just global warming. Usually cold Arctic air is kept up north during the winter by a jet stream. But climate change can destabilize this stream, allowing the cold air to dip south into the United States.
The winter storm that knocked out electricity for over half a million Oregonians was the biggest in 60 years, but it's likely we won't be waiting 60 years for the next one. Extreme weather is becoming more common as the climate changes.
The freezing weather was especially difficult, in some cases deadly, for our houseless neighbors who had to risk the cold or COVID-19 in overflowing shelters, as well as low income folks living in poorly insulated homes with unaffordable heating bills.
That's one of the reasons we're proud to be a part of the Oregon Clean Energy Opportunity campaign, that includes the Healthy Homes bill – that will support home improvements in low-income households across Oregon – and the Energy Affordability Act – that will decrease utility costs for families already struggling in the economic recession by establishing a Low-Income Utility Rate Class.
As that campaign ramps up in the coming months you'll hear more from us about ways you can take action, but if you want to get involved sooner you can also reach out to dineen@350pdx.org who can keep you in the loop.
Here's your 350PDX weekly update.
Actions
All these actions and more can be found on our website's Take Action page – 350pdx.org/action
Nationally and locally, climate activists are answering the call of and acting in solidarity with Indigenous Water Protectors of Giniw Collective and Camp Miigizi to help end Line 3: a fossil fuel pipeline from Alberta to Lake Superior being built by the Canadian company Enbridge. The construction of this pipeline is currently being rushed through the heart of Northern Minnesota, on its last leg as it passes through Anishinaabe lands, including sacred wild rice beds, as well as the headwaters of the Mississippi River and hundreds of other bodies of water.

Indigenous Water Protectors who have led the struggle against the Line 3 pipeline in Minnesota have put out a desperate national call for people to join them on the front lines in solidarity and support. Enbridge is getting close to crossing the 22 waterways that the Water Protectors have spent years defending. If Enbridge succeeds, it will have a devastating impact on the local wild rice wetlands and forests. And that's not even mentioning the sheer quantity of tar sands oil this pipeline will be carrying: the emissions equivalent of 50 coal fired power plants per day.

There is a car caravan from Portland headed to Stop Line 3 actions the first week in March (contact PNWStopL3@protonmail.com). Caravans will be COVID-tested car pods who stay socially distanced from one another. If you're interested in going you can read more here which has info on trainings, logistics, COVID safety, etc.

A number of frontline folks (youth, Latinx, Indigenous) also need financial support in order to make this journey. A Go Fund Me has been created to raise scholarships for the trip: https://www.gofundme.com/f/help-pdx-activists-travel-to-stop-line-3.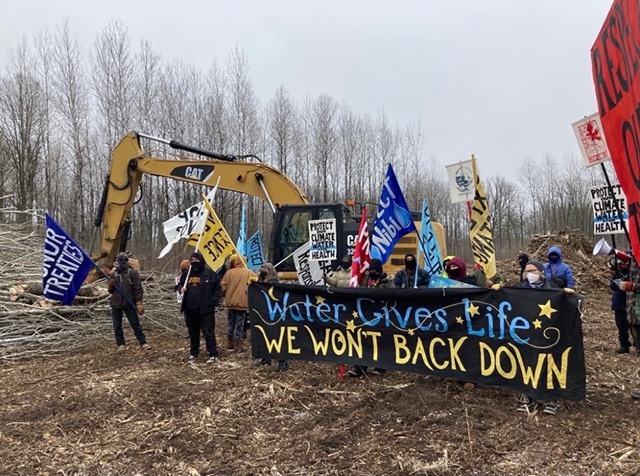 Join our Defund/Divest Team and the national Stop the Money Pipeline coalition in pressuring banks to #DefundLine3! In solidarity with those on the frontlines of resistance to Line 3 in Anishinaabe territory in Northern Minnesota, join us in taking action to demand an end to the financing of the toxic, colonial tar sands pipeline. We are writing thousands of postcards to bank executives before a $2.2 billion loan to Enbridge is due for renewal, demanding they walk away from the project.

Fill out this form by March 3rd to let us know how many postcards you—and friends you recruit—will commit to send! Each person can send a postcard to 12 different bank executives!


Postcard front and back

Chase, Bank of America, TD Bank and Citi are some of the main banks providing financing for the disastrous Line 3 tar sands pipeline. On March 31st, these banks have a $2.2 billion loan to Enbridge, the company behind Line 3, that is due for renewal. We're demanding that the banks walk away from this toxic pipeline on that date (you can read more about the #DefundLine3 campaign here).

In the last two weeks, we have sent more than 260,000 emails and made more than 500 phone calls to bank executives, but so far they have been silent on whether or not they will walk away from Line 3.

So we're filling the calendars of Chase CEO, Jamie Dimon, as well as the CEOs of Bank of America, TD Bank, Citi and two other key Chase executives, with hundreds of invitations to remind them to break up with Enbridge and defund Line 3. Instructions on what to do here!

The Oregon Board of Forestry makes important decisions on the management of private timberlands and state forests, influencing community drinking water, ecological integrity, and climate change.

In the next week or two the Oregon Senate will have the opportunity to confirm three candidates to the seven-member Board of Forestry. This is a rare opportunity to influence our politicians to shift the composition of the board.

Take action with us. Follow the link to see more info, and to send an email and call your State Senator asking they approve the three proposed candidates to the Board of Forestry.
Updates​​​​
Opportunities​​​​
Thank you all for the work that you do, stay safe, we're all in this together,
Chris, Chuck, Dineen, Indi, Lucy – the 350PDX staff