Hi everyone,
Yesterday morning Portland City Council passed its annual budget, with a $15 million cut for the Portland Police Bureau. This is the first time the police budget has been decreased and not inflated in years, but it is also only a 3% reduction to the budget, and it falls far short of the $50 million cut advocated for by PAALF, Unite Oregon, Rose City Justice, and other supporting groups including 350PDX. Mayor Ted Wheeler, Commissioner Jo Ann Hardesty and Commissioner Amanda Fritz voted yes on the budget, with only Commissioner Chloe Eudaly voting no. Watch all four of their statements here. 
Three police units with a history of racial discrimination will be dissolved – the Gun Violence Reduction Team (GVRT), a program known for disproportionally targeting Black Portlanders; the School Resource Officer (SRO) program; and PPB's transit police program. The budget cuts also includes relocating $2.3 million in cannabis tax dollars from PPB toward restorative justice grants, and redirecting $4.8 million to Portland Street Response, a program that sends trained mental health workers to respond to certain 911 calls instead of police.
This reallocation of funds is a big deal, but whether it is the transformational change needed right now is up for debate. Commissioner Jo Ann Hardesty, the first Black woman on City Council, and former NAACP Portland chapter president said in her statement that the cuts represent a historic moment for Portland, whereas Rose City Justice, the group organizing the nightly marches of thousands said that this is a move in the right direction, but it doesn't go far enough, and that they'll be in streets every day until their demands are met.
What everyone agrees on however is that the mass uprising of the past three weeks has led to faster and deeper policy change than years of less disruptive campaigning. When we show up in huge numbers day after day we can change things remarkably fast. At the start of what needs to be the decade of the Green New Deal, the movement for Black lives is not only a prime example of the type of movement we need, but it is also the crucial first step in an ongoing series of uprisings that will get us to a livable future, for Black communities, and for all communities.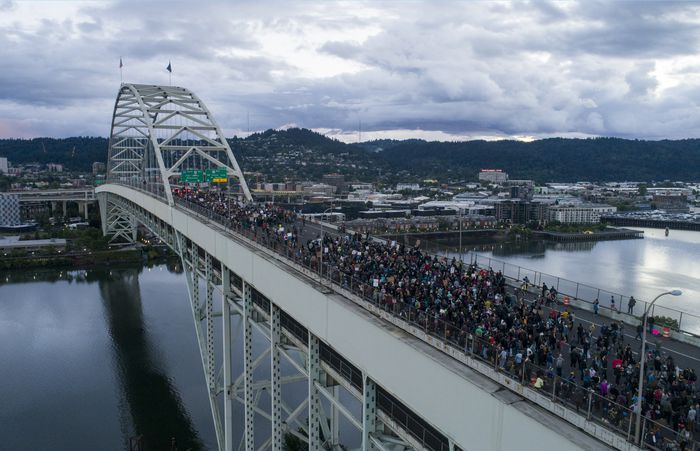 Protesters Tuesday night on the Fremont Bridge (Dave Killen, Oregonian)
Here's your 350PDX weekly update.
Actions
Resources
Opportunities​​​​
Thank you all for the work that you do, stay safe, and we're all in this together,
Ashley, Chris, Chuck, Dineen, Lucy – the 350PDX staff