Happy June! Here's this month's team & campaign update newsletter! 
Last month we hosted our Spring Fundraiser on a Just Recovery, a bold vision that creates a fossil-free Oregon that serves us all. We did not quite reach our goal – will you help us raise an additional $1,000? You can still make a $10, $25, or $50 donation to help fuel our work for the year ahead. Thank you to everyone who already made a donation! We're so grateful for your support, and look forward to keeping up the fight as we gradually emerge from this pandemic.
Want to get more involved at 350PDX? Come along to tonight's Volunteer Orientation at 6PM.
————————-
Volunteer Support Fund
350PDX is committed to removing barriers to volunteering and organizing within our movement. Thanks to a generous donation from an anonymous donor, we are now able to provide limited stipends to go towards removing barriers to volunteering with 350PDX through a Volunteer Support Fund.
We aim to foster a more inclusive and accessible 350PDX community, while also providing opportunities for distributed leadership and more sustainable volunteer teams.
Will a stipend support you in volunteering with 350PDX? This fund may be for you! Apply here
Applications will be considered and stipends will be distributed on a quarterly basis, so about every 3 months, with the next rolling deadline coming up on June 30. Questions? Please reach out to chris@350pdx.org and dineen@350pdx.org. 
————————-
TEAM UPDATES
Read more about the teams and what volunteer opportunities they have on our Volunteer Opportunities page
Want to get involved but not sure where to start? Fill in the Volunteer Form
Fossil Fuel Resistance
It's all hands on deck to #StopZenithOil! The City will be making a critical decision on a land use permit that would determine whether or not Zenith Energy can continue their dirty tar sands operation in our community. Here are 4 things you can do right now:
In other tar sands related news, Annie from our team went out to Minnesota on the train to join the Line 3 protests last week. Check out her fantastic blog post here!
To join our team, reach out to Melanie (melanie.plaut@gmail.com) and Ana (apyz875@gmail.com)
Defund/Divest
Our team follows the money and works as part of a national coalition StopTheMoneyPipeline (STMP). We have been working with STMP and frontline Indigenous resistance to defund Line 3, a tar sands pipeline in Minnesota owned by Enbridge Energy. Our work lobbying the State Treasurer to vote in corporate shareholder meetings to undermine fossil fuel industry funding is over for this year. We have now launched a Divest Oregon campaign, which will be carried out by a statewide coalition separate from our team. Our team will continue to support frontline resistance to fossil fuel infrastructure and continue to wage campaigns to highlight the massive support for the fossil fuel industry by financial institutions, insurance companies, and the government. We also work on divestment campaigns in local educational institutions. Reach out to Jenifer (jenifer@350PDX.org) for conversation about our team, and ask to be sent our weekly team email. We meet on the 4th Thursday, 7-8:30 pm with June the exception. Next meeting is July 23. For more go to our team web pages.
Oregon Clean Energy Opportunity
We're now just 10 days away from the end of the Legislative Session. It's go- time. Our biggest need is for phone calls to constituents of key legislators before the final bills go to the floor for final votes. Click here to send a message to your legislator to make sure they vote yes for HB2021 and HB 2842. Come to a phonebank tomorrow evening from 5:30 – 8pm, even if you've never phonebanked before since it will start with a training. Experienced phonebankers can hop in and make calls with us during the day tomorrow (from 1-2:30pm) by signing up here.
Join members of the campaign in person on Friday evening (5-7:30pm) at Unthank Park for a Clean Energy Opportunity Action Party! There will be food, drinks, and opportunities to take action for the campaign with others!
Forest Defense
The Forest Defense team recently took a little time for a camping trip and hike at Tamawanas Falls near Mt Hood! It was a great opportunity for relaxation and teambuilding. The team is focusing on defining our principles and vision for the team and for the future of forests in the Pacific Northwest, and planning our next campaign after our big win with the Board of Forestry in March. Read more here.
We virtually meet first and third Mondays 6pm – contact Leslie for info (lesliegrush@gmail.com)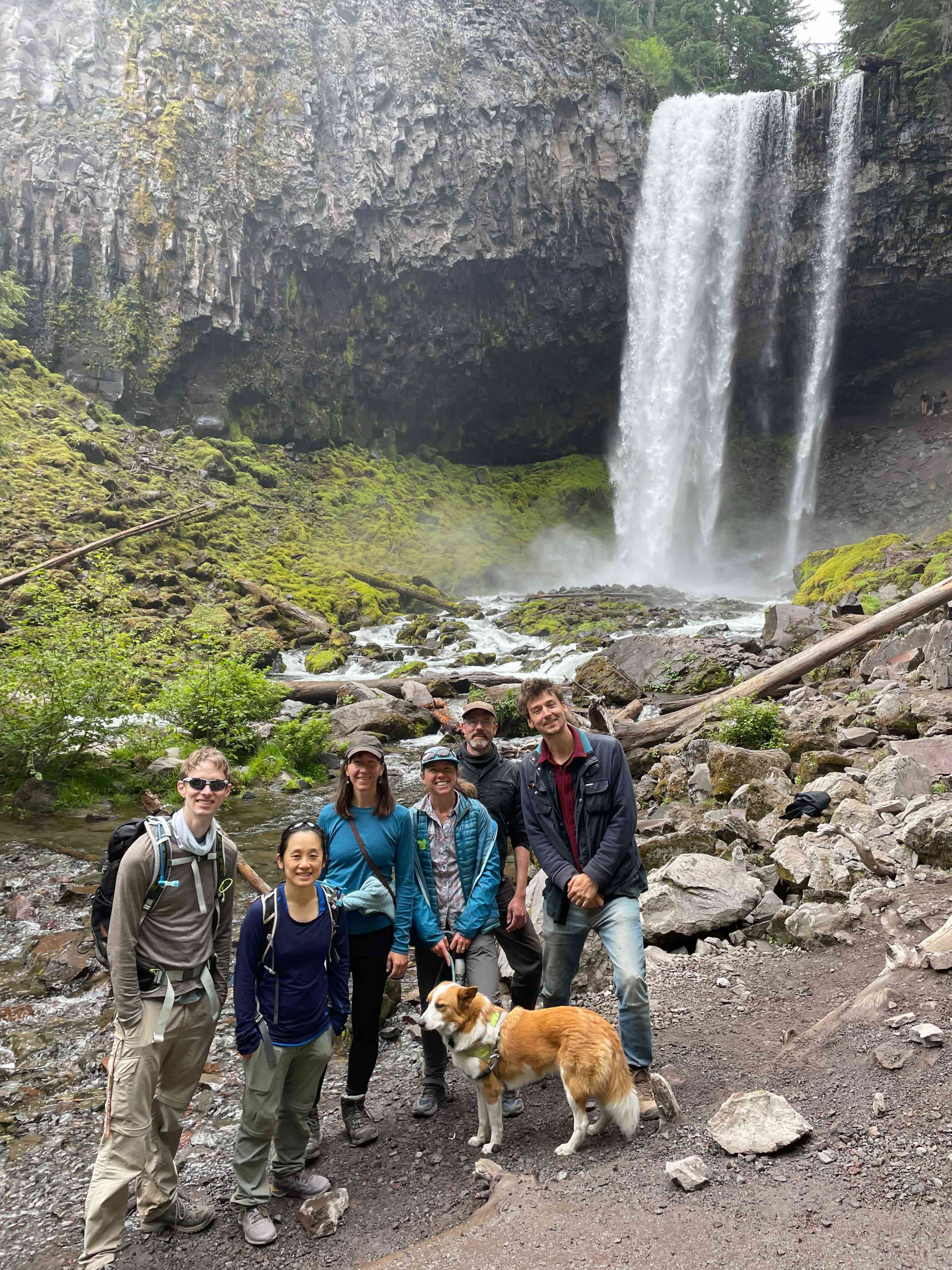 Solidarity
Our Solidarity Team organizes in the intersections of climate justice and social justice movements through genuine partnership and coalition building. We're currently focused on campaigns for racial justice and defunding the police, as well as global solidarity and anti-militarism. This month, we're celebrating the passage of SB 621, a bill we've supported that allows Portland to move forward with the independent police oversight board we voted in last fall. We're also keeping an eye on a bill that would curtail police use of chemical weapons and dangerous crowd control tactics. As we move into the summer, we're especially excited to begin safely gathering in person to skill up and learn together through outdoor activities like movie nights!
We are looking for volunteers who are committed to anti-racist values and centering the leadership of frontline communities, and excited to be a part of local coalitions to further racial justice and global solidarity. Been interested in joining this team? Next week is a great place to jump in! We'll be having an outdoor movie screening and hang out night. We haven't picked the film yet, so reach out to join us and make a suggestion! Email dineen@350pdx.org and indi@350pdx.org to join the team or for more info.
City/County Watchdog
This spring and summer, the Watchdog team is continuing to self-study and incorporate a focused anti-racist lens as we advocate for frontline community priorities and demand action and resources on scale with the Climate Emergency that Portland declared in June 2020. Here's what we're up to in June:
Speaking out at the City's budget hearing on June 9. Read our testimony here.
Keeping tabs on the first progress report of the City's Climate Emergency Declaration. The report is scheduled to go to City Council on July 29 at 2pm. Stay tuned for community engagement opportunities.
We meet monthly on the first Thursday of the month from 5:30-7 PM. Contact Brooke (brooke@350pdx.org) or Indi (indi@350pdx.org) for more info about the team or to join a meeting!
Green New Deal
The Green New Deal team is going on hiatus from their work providing education and advocacy for a Green New Deal. Please reach out to indi@350pdx.org with any questions and visit our partners at the Oregon Just Transition Alliance to see how you can plug into ongoing work towards an Oregon Green New Deal!
Creative Team
Seeking climate creatives! Do you have graphic design, illustration or animation skills? Or are you good at managing several creatives all contributing to one beautiful project? Join us – you are needed!
Right now the 350PDX community-based creative team is seeking folks willing to share their skills for an exciting upcoming fossil fuel resistance campaign — it'll involve developing a variety of creative assets built around a specific narrative. These will be one-off engagements and we'll be looking to collaborate in June/July/August. For this campaign we're specifically looking for:
Graphic designers
Illustrators
Animators
Video editors
Creative project managers
We'll give you a creative brief, a run-down of what we're looking for and a general deadline. We can partner closely or let you work your magic! Your work will be shared by 350PDX as well as a variety of other regional coalition groups, most likely via social media. Great for building out your portfolio or practicing a skill!
Want to be on our roster for the next opportunity? Fill out this quick form to get on the list.
Any questions? Email creative@350pdx.org
————————-
OTHER UPDATES
Staff
One of our organizational values is *Rest*. This work can be deeply emotionally taxing and nonstop, and after a grueling year of adapting and surviving we're going to do a revolutionary thing and take a break. We'll be giving our staff a paid vacation and closing the (virtual) office for 2 weeks from July 12 – 23. We'll be encouraging our board, volunteers, and movement partner organizations to join us in resting and enjoying the summer. We'll be skipping the July General Meeting, and will be back in business for August.
In solidarity,
350PDX Staff – Chris, Chuck, Dineen, Gaby and Indi
350PDX Board & Team Leads